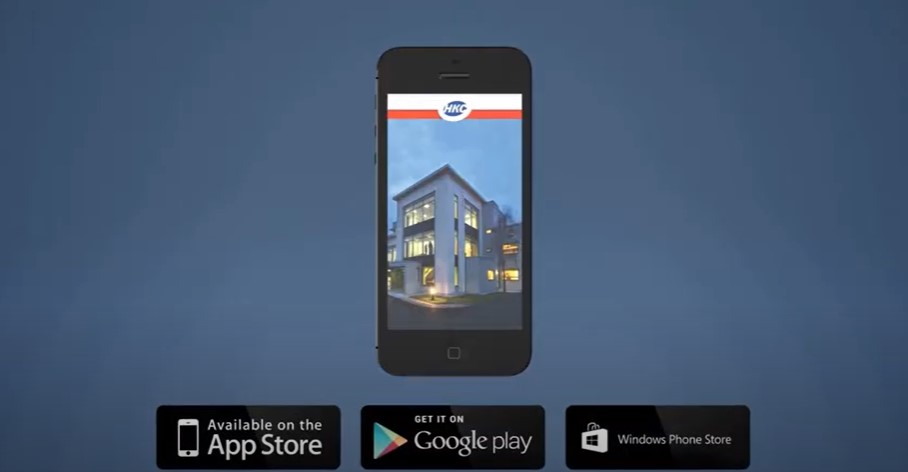 The HKC app for its intruder alarm system is simple to use and makes your life easier. Importantly you can set and unset your alarm on your smart phone when it is convenient for you. This function is one of the key benefits of the burglar alarm app which is available to install from the app stores on all smart devices.
Benefits of setting and unsetting the intruder alarm remotely
If you return from a shopping trip you can unset your alarm before you enter your house. This means when you arrive home with your bags of food you don't have to put them down in a hurry to unset the alarm.
Or if you leave the house and realise you have not yet set the alarm you can do so without re-entering the house. When you leave your property it also saves you the anxiety of the alarm of not being set. You can also separate your property into zones and part-set your alarm for that area if you need to.
To set the alarm within the HKC app press full or part set then put in your regular user code that you normally tap into your intruder alarm control panel. At this point the app will connect, which will take a few seconds and then the system will arm. To unset all you need to do is press unset and it will do this in seconds.
The many functions of the HKC App
The HKC app also has a log record which will display the last 100 alarm activations and actions of setting and unsetting the alarm. Alarm activations appear in red within the log. If you select the share log option you can share log events via email or SMS.
A further range of functions will improve your security. These include receiving notifications of:
activated alarms
changes to the alarm settings;
a technical fault with the alarm system
If the alarm is attached to a camera you will also receive a photo, which you can share with others.
For integrated systems you can turn on and off heating, lighting, a garage door or an electric gate on the outputs screen of the app. There are also controls to set when lights etc come on and go off.
Use a professional certified installer to set up the app properly
To ensure that all the alarm settings and additional settings operate properly in the app you will need the help of a professional installer, like Security Group. We have taken the time to test the alarm equipment and the app and will be able to advise you on the best solution for you.
We work across Bristol and across south-west England. Call us on 0117 914 1180 or contact us to find out more about all our intruder alarm systems and our integrated security solutions.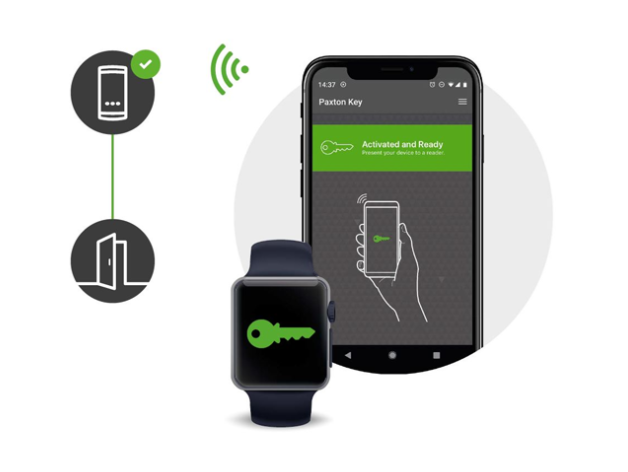 Being able to access doors at your work without searching for key fobs or cards would make everyone's life so much easier. Paxton Access Control has made this kind of convenience a reality with their Paxton Key App. This is available for users of its Paxton10 system as well as with PaxLock Pro and Entry panels.
Easy access: How to get started
The Paxton Key App allows access through doors with your smartwatch, smartphone or tablet. It even works without ever taking your smartphone out of your bag or pocket! The free Bluetooth smart credentials are easy to issue and use, and allow you to open any Paxton10 door. The Paxton Key app is available for iOS and Android phones, as well as Apple Watches and Wear OS devices.
To get started with Paxton Key you need to ensure that Bluetooth is enabled on the Paxton10 readers. The system administrator then needs to issue users with Smart Credentials via their user record in the Paxton10 user interface in the 'Add a credential' section.
The user will then receive an email containing download instructions for the Paxton Key app. The app is also available from: the Apple App Store*; Google Play** (*Requires iOS v11.0, **Requires Oreo v8.0). Finally, the user registers their Smart Credential in the Paxton Key app.
Using the Key App
Once you have installed the app there are three modes of operation:
Touch to enter: tap the reader with smart device in 1-2m range
Token mode: present smart device to reader as a token
Long range: ideal for car park barriers, smart device read at 5-10m range
Paxton Key then works using four simple steps:
1) A smartphone, tablet or smartwatch sends an encrypted advert up to a range of 10 metres
2) A Paxton10 reader connects
3) Exchanges Free Bluetooth credentials
4) Grants or denies access within milliseconds
Paxton10: Making Remote Access Easy
In April Paxton Access also launched Paxton10 Multi site allowing you to manage access control across multiples sites from a single point of management. Using Paxton10 Cloud Services you can expand your system easily from one server and manage staff and visitors more easily. In addition, Paxton has recently enhanced its remote management features as well as improved the usability of the system so that the user experience is better than ever.
The engineers at Security Group are experts in all of Paxton's access control solutions. Contact us on 0117 914 1180 if you want to know more about how we can hep you.