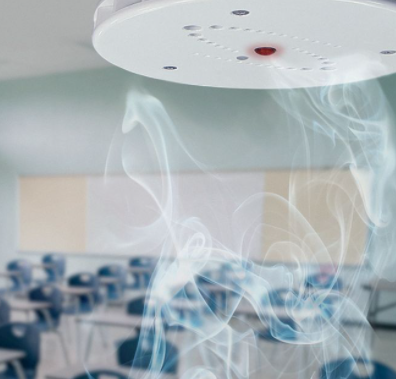 If you own or manage a hotel or leisure complex, or are responsible for safety and security on a school, college or university campus or student accommodation, you may be looking for a smarter way to create a safer and cleaner environment for staff, guests or students.
Halo Sensor detects signs of smoking or vaping
These could be in rooms where CCTV cameras are not allowed, or are not appropriate, but where you want to ensure people are protected and illegal or antisocial behaviour is detected. This is when more advanced monitoring could help. This monitoring could be for environmental threats such as potential gas or chemical leaks; ensuring that aggressive or criminal behaviour between or by people is detected and dealt with and picking up signs of vaping or cannabis smoking inside.
Security Group can now offer a solution that will support you from Motorola Solutions and Avigilon. This is the HALO IOT Smart Sensor (HALO), built by IPVideo Corporation. Using the latest smart technology and with privacy in mind, it adds a layer of security in places that are not covered by CCTV surveillance enabling you to deal with a range of challenging situations and maintain safer and cleaner spaces.
Non-intrusive device that will protect people
For example, you will have an additional sensor that could help provide alerts when students are suffering from bullying or somebody becomes involved in a fight or that is able to detect a variety of particulates in the air so that it can help to prevent the spread of infectious diseases.
Specifically, this all-in-one intelligent device can be used for:
Vape and THC (tetrahydrocannabinol, found in cannabis) Detection,
Air Quality Monitoring
Aggression Detection
Calls for Help
Gunshot Detection,
Spread of Infectious Diseases Prevention
Chemical and Gas Detection
Vandalism and Trespassing Alerts
The sensor has been designed so it is a non-intrusive security device that does not take away from a room's ambiance making it ideal for hotel bedrooms, bathrooms and other similar spaces. As well as protecting individuals the sensor prevents damage and associated cleaning costs that are caused by smoke particles and poor air quality helping you save money over time.
Integration with ACC7: Quick notification of issues
Meanwhile, the HALO integrates into a broader security infrastructure and provides data analytics to monitor violation alarm rates. By integrating the HALO with the powerful Avigilon Control Center 7 (ACC7) video management software users will be able to receive an alarm in the Focus of Attention interface. This occurs once the HALO senses a threat.
At that point, Radio Alert will be able to notify security personnel or administrators through a text message, a voice-to-text alert, or both, when an alarm is triggered, enabling them to understand the situation and to respond quickly.
Avigilon, which is now part of Motorola Solutions, is the preferred CCTV supplier for Security Group. This is the latest in a line of innovative products from Avigilon we are excited to offer you. If you want to know more about the benefits of an Avigilon-led solution then please contact us.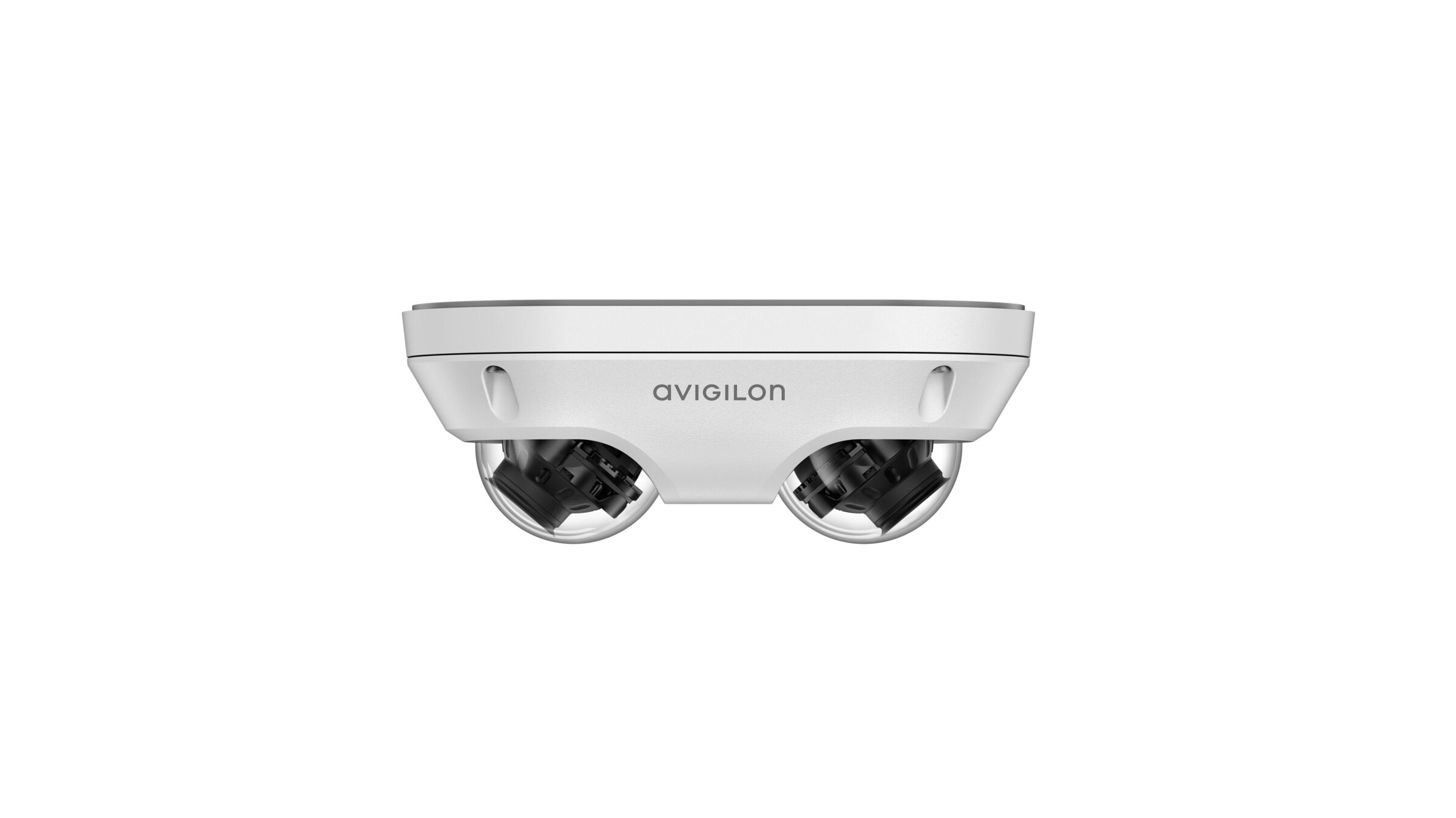 If you are looking for a cost-effective solution for hard to secure places in your building then the recently launched Avigilon H5A Dual Head Camera could be the answer.
Areas such as hallways, stairwells, corners in corridors, and car park entry and exit points could all be areas that are difficult to monitor effectively with a single lens camera. However, rather than having then to buy multiple cameras this allows you to have fewer cameras but still provides superior surveillance.
This low-profile dual-sensor camera brings enhanced security to any site by increasing coverage and minimising blind spots for those hard to secure areas. The camera is excellent in tight spaces as the two lenses can be angled easily to the correct position. Both of the lenses are varifocal allowing you to adjust the level of zoom and field of view so you can drill down to the area you want to show. Additionally, the camera incorporates Avigilon's LightCatcher Technology which means it provides exceptional detail in low-light settings.
As the Dual Head is one of Avigilon's latest H5A cameras it has the latest analytic capabilities. These include expanded object detection and classification as well as support for Facial Recognition and Avigilon Appearance Search technologies. This will allow you to improve your surveillance by responding quickly to events and providing evidence if there is criminal activity or an accident within your site.
The Security Group team is excited about the capabilities of the H5A Dual Head Camera which includes technologies that can help mitigate the risks associated with the transmission of COVID-19. Like all the H5A range, the Dual Head cameras can facilitate occupancy counting to help with social distancing and face mask detection.
The full extent of the video analytic capabilities is available when the camera is integrated with Avigilon Control Center 7, the video management software. Through this integration your security teams will be able to respond swiftly to potentially critical events.
The Security Group engineers are specialists in Avigilon CCTV systems and can tell you more about the benefits of the H5A Dual Head Camera or other Avigilon solutions. Contact us to find out more.