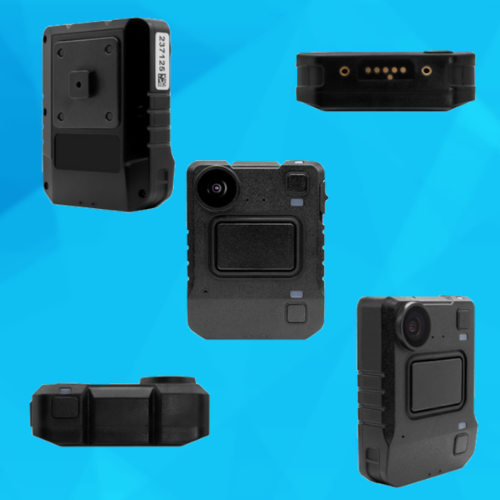 If you are a member of the security staff in retail, transport, within a hospital or at a leisure venue then having extra support when you are out on patrol is important to help you with dealing challenging situations. If you are operating CCTV having a connection with those on patrol could make all the difference between capturing vital images for evidence gathering and missing out.
Supporting front-line security staff
Body-worn cameras provide that connection between front-line security staff and those monitoring the CCTV. In a range of situations security professionals may be subject to abuse from customers or members of the public and feel unsafe. Without additional support they may not wish to continue in their roles.
Having the highest quality body worn cameras that are toughened and able to withstand a range of weather conditions including rain, snow and dust will mean they will work whatever the situation. The Motorola Solutions VB400 is the next generation of body-worn camera technology that is built with a toughened exterior that has been tested to military standards. The large central button and robust side switch are positioned for easy operation, even when wearing gloves.
Easily connected to Bluetooth and Wi-Fi
The body worn cameras can be connected both via Bluetooth and Wi-Fi which will deliver a powerful mix of capabilities. Live streaming connects your team to the control room, improving the awareness of staff to events outside giving them an indication when to provide back up.
Additionally, the advanced technology means that if paired with select radios over Bluetooth, the VB400 can automatically record when the user's radio enters an "emergency state", when the user presses the radio's emergency button, and when the radio's man down sensor detects the user is down.
Like the VT100 body-worn camera it can be integrated with the video management software, Avigilon Control Center 7 ,which means activation of recording will generate a motion start event and display the camera's live video feed. This footage can be used alongside a building's fixed camera to provide information about a situation. This can be used at the time to provide appropriate assistance to staff or when evidence gathering about an event.
We offer the full Avigilon range from Motorola Solutions
Security Group is a partner with Avigilon, which is part of Motorola Solutions. Our engineers have experience of installing CCTV across a range of settings including schools, shops, large private properties and large commercial premises. So if you are an organisation based in Bristol or across south-west England we can can spend time with you to create a bespoke solution that will best suit your needs.
To find out more the Avigilon body-worn cameras and the rest of the Avigilon solutions contact us.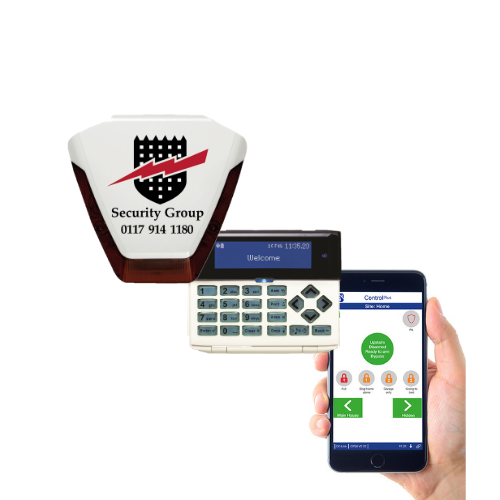 If you are a business that is at risk from burglaries or vandalism due to the location of your premises, or the high value of your equipment or products, then it is essential you install a modern intruder alarm system and have it regularly maintained and supported.
Your insurance company will also have required standards for the alarm systems that you can have installed in order to ensure they will pay out if you have to make a claim. Additionally, having a high standard intruder alarm system should help to reduce your insurance premiums.
Meanwhile, having a reliable intruder alarm system that can also be managed remotely by you ensuring you have control even out of opening hours means less disruption for you or your staff if the alarm is triggered.
Security Group has selected Orisec as one of our burglar alarm suppliers because its products are reliable and easy to install. Orisec intruder alarm systems are designed and manufactured in the United Kingdom and are only available from professional installers like Security Group .
Additionally, we find Orisec's cloud portal and app simple to use while also offering advanced features, which means we can support you more effectively if there are problems and you are able to control your intruder alarm system more easily.
The cloud portal means we are able to offer remote maintenance of your intruder alarm system and also means you can control our engineer access to your sites and maintenance reports are emailed directly to your inbox.
The key features of the Orisec app are the ability to:
Receive notifications of when alarms are activated which could be for a break-in, fire or flood;
Set and unset your alarm system, which includes full setting or just part-setting the alarm, wherever you are;
Provide reassurance that elderly or younger relatives are safe and well through its Family Care function;
Remotely control other systems or devices if connected such as CCTV, gates and lights.
An Orisec intruder alarm system will be of benefit for a range of premises and organisations such as schools; shops; healthcare settings; warehouses; factories; leisure centres; gyms or entertainment venues.
So, if you are based in Bristol or across south-west England and are planning on installing a modern intruder alarm system or need to upgrade your existing system then get in touch with us. We can offer a free security audit that ensures we fully understand your needs and can offer the right Orisec solution for you.