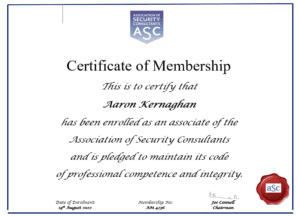 We are delighted to announce that Aaron Kernaghan, Managing Director of Security Group and our parent company, Ecl-ips, has become an associate member of the prestigious Association of Security Consultants (ASC).
This membership recognises the expertise and experience Aaron has to be able to provide security advice across a breadth of disciplines. He is now qualified in intruder alarm design and installation, CCTV system design as well as being an expert in access control.
The ASC states that its Associates have a strong reputation within the industry for providing specific security-related goods and services and only accepts them as members if they operate to the highest standards.
Aaron's membership also reflects the ethos that he embeds into Ecl-ips and Security Group.  Neither company offers off-the-shelf products but instead we listen to what customers and potential customers need and provide bespoke solutions to their problems and challenges.
The rigorous testing and understanding of products, such as the Avigilon CCTV solutions, HKC Security and Orisec intruder alarm systems, to ensure they do what their manufacturers and software developers claim, mean that once we work on a project, and Aaron advises on a security solution, we can be sure what problems they solve and the benefits our customers can gain.
Aaron's move into the security industry came over a decade ago as Ecl-ips developed from just specialising in IP monitoring services into also offering CCTV as clients requested this as an additional requirement for the projects we were providing. Gradually over the years Aaron has improved his expertise, along with the Ecl-ips team, to be able to offer a wider range of security solutions, including more recently touch-free access control systems, the HALO smart sensor and Density Fog Generators.
His experience with the poor management and compliance of CCTV systems also led him to develop the cloud solution, CCTV Logbook, which gives peace of mind to CCTV operators that they are not missing vital information so they can keep their systems better maintained and are meeting data protection obligations.
The ASC was founded in 1991 and is now recognised as the professional organisation for independent security consultants, representing their interests and promoting their activities.
Members of the ASC are leading experts in their fields and can provide specialist knowledge and breadth of experience in all security disciplines. Associate status is considered to be any security practitioner employed to provide professional security advice including security installers like Ecl-ips and Security Group.
All members pledge to adhere to the ASC code of conduct which includes the requirement to maintain a high standard of work and act with integrity and impartiality solely in the interests of the client.
The ASC provides members with access to key decision makers and innovators in both the private and public sectors. This means they are kept up to date with developments in threats, technological solutions and industry best practice. They also receive expert support from professionals who are familiar with the latest trends and developments, including technology, application and legislation.
If you are based in Bristol, Bath or elsewhere in south-west England or South Wales and you have a security project that requires broad expertise and experience then please get in touch. We will be delighted to help.