HKC Burglar & Intruder Alarms
Advanced technology and solutions
Part of ASSA ABLOY, HKC is the intruder alarm market leader in Ireland.
A trusted brand delivering high quality products.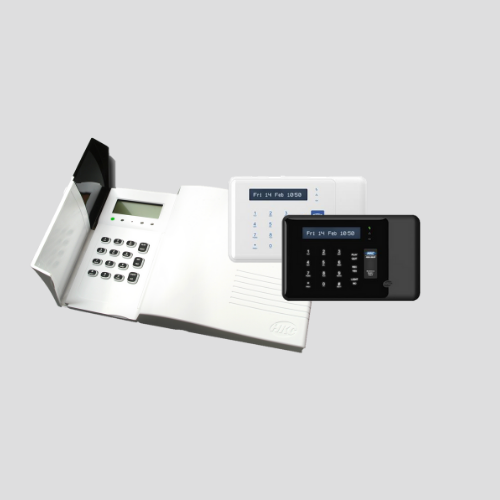 HKC
HKC Security, an Assa Abloy group company, is an Irish-based manufacturer of intruder alarm equipment established over two decades ago to serve the growing needs of the security market.
HKC is the intruder alarm market leader in Ireland and continues to grow in the United Kingdom. The company has become a trusted brand delivering high quality products, which Security Group is proud to install.
Its two-way wireless platform offers excellent range and is capable of securing all building types using HKC's innovative RF Expander architecture.
Why HKC?
Manufactures wired and wireless solutions for the residential and commercial sectors
Products include both hybrid and complete wireless control panels, wired and wireless detectors, IP communicators, keypads and sounders
Superb RF Range
Excellent Battery Life
Connected Device Capability
The  HKC App, which was redeveloped as a free app in August 2022, and SecureComm Cloud software provide a plug and play solution that allows installers, like Security Group, to offer our customers control of their alarm from any location. The app is available on all smart phones and you can access all the features of the app by entering the user code that you normally tap into your intruder alarm control panel.
HKC app Key Features:
Setting and unsetting your alarm system, which includes full setting or just part-setting the alarm, wherever you are
Receiving notifications of when alarms are activated and receiving a photo with this if the alarm is attached to a camera
If your alarm system has been integrated with other systems or devices around your home such as heating, lighting or an electric gate you can also turn them on or off or set a time for this (you should seek professional advice to ensure the devices are correctly wired and configured to the HKC control panel to activate this)
Site settings which controls when you get notifications, such as for alarm activation or if there is a technical fault with the system
Receive notifications on your smart phone of the changes to the alarm setting
Additional features of the HKC Securecomm2 app:
Improved user experience thanks to design improvements
Biometric login option
Enhanced search function
HKC Product Range
Please contact one of our specialists to find out more about HKC's security solutions and how they can help you.
Frequently Asked Questions
Who can install a HKC intruder alarm system?
HKC is the manufacturer of advanced intruder alarm systems but you will need to have them installed by a professionally accredited alarm installer, like Security Group, which is certified by the SSAIB. Security Group has spent time selecting quality intruder alarm systems and HKC's solutions are one of those that fits our criteria. We are also able to upgrade or service HKC alarm systems.
Why do I need a burglar/intruder alarm?
The key benefits of installing an intruder alarm system are that it will protect your property from theft and vandalism; increase the
likelihood of police apprehending criminals; lower your insurance premiums and provide you with peace of mind when you're away from home or off-site.

How does an intruder alarm system work?
An intruder alarm system consists of a series of electrical components that are connected to a property. Via sensors and contacts, they detect movement or the opening of doors and windows, after which a loud alarm is produced to alert those nearby of the unauthorised entry.
How will you support me if my alarm system fails?
If your alarm system fails one of our engineers will be with you in under 4 hours to get your system working again. They will endeavour to make an on site repair. Sometimes they may need to replace certain equipment if it cannot be repaired on site, should this happen our engineer will ensure that he does not compromise your system and leaves it functioning.
What are intruder alarm grades?
Intruder alarms are categorised into 4 different grades, based on their levels of performance (such as functionality, reliability and durability). Security Group can fit either Grade 2 or Grade 3 intruder alarms which are both fully monitored systems and will protect multiple entry points. However, the grade of alarm you require will depend on your risks associated with your property, for example its size, structure and location as well of the and the value of business assets or personal possessions, such as electrical goods and jewellery.
If your property is considered high risk then we will recommend a grade 3 alarm system because we will have assessed that it will be targeted by burglars who are expected to be conversant with the alarm system and have a comprehensive range of tools and portable electronic equipment. 
I have an outdated burglar alarm system, how we will you help me upgrade?
We will take the time to survey your house or premises to ensure that we can provide a modern intruder alarm system that will meet your needs and the risk level of your property or business. We will show you the benefits of the main systems we install from Orisec and also discuss your wider security needs where appropriate.
What is a unique reference number (URN) and how will it help me?
Security Group is registered with a certification body, the SSAIB, which means we are able to obtain a URN from the Police for your premises. We will notify our standards compliant ARC of your URN enabling them to identify your premises if any alarms are triggered. If it is confirmed that the alarm is not false then the ARC can inform the police.
Who are HKC and where are they based?
HKC is a leading manufacturer of electronic intruder alarm equipment for professional installers in both Ireland and the United Kingdom.  Its UK office is in Littleborough, a town within the Metropolitan Borough of Rochdale, in Greater Manchester. The address is
James Hill Street, Littleborough, OL15 8AE (Tel: 01706 373560 Email: ukinfo@hkc.ie)