Electronic Access Control
Solutions for a range of organisations
An electronic access control system helps to avoid
unauthorised access to your premises.
Secure but easy access
Electronic Access Control provides easy access to your offices and other premises for staff, external contractors and other visitors without compromising on the security of your sites.
Staff are able to access doors via cards, fobs or keypads and with the latest technology, via mobile devices. Visitors can be allowed access remotely, via video systems if required.
You can also unlock doors remotely or via schedule.
Monitor real time activity
With Electronic Access Control you can keep track of your staff and visitors or customers, both remotely and on-site, providing them with security and protection .
Using the latest access control software you will be able to create accurate staff time keeping logs and generate emergency evacuation call list logs.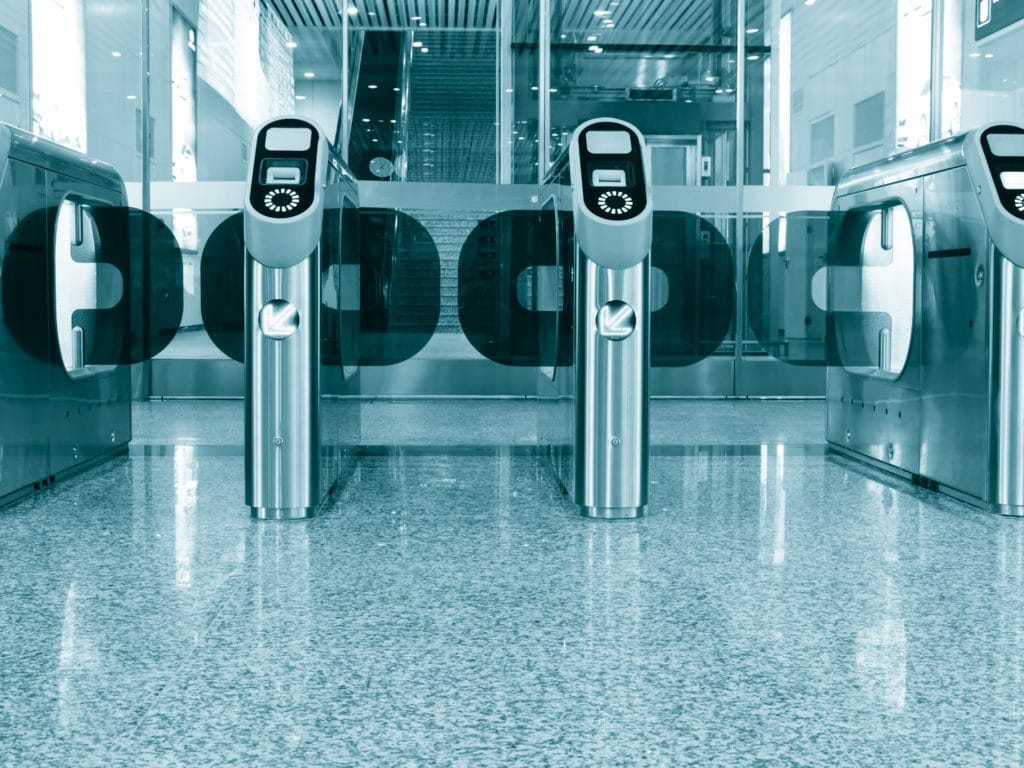 Central access control
Centrally controlling authority to access your building or secure rooms within your business is made easy with electronic access control.
The access control software can also reduce your costs over time and increase service levels to staff and visitors.
When staff leave it is easy to remove their access and add new staff and you do not have to keep track of multiple sets of keys.
Manage occupancy levels
If you are holding a large event and want to control the numbers or the flow of people for any reason then access control software can help with technology developed to curb the spread of Coronavirus (COVID-19).
There are systems to manage numbers and prevent access to people if limits to those numbers have been set either to the entire or top parts of a building or site.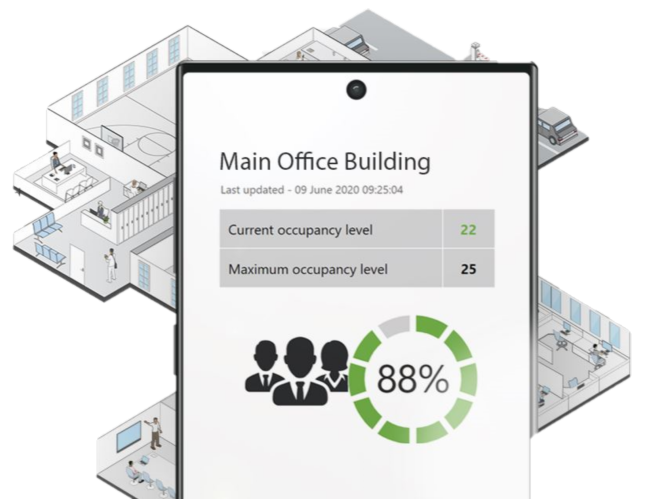 Manage your site wherever you are
Web-based browsers and apps mean that you have control over your access control wherever you are and on a range of devices.
If you are operating a large business the latest advances mean access control can be managed for multiple sites in the UK and abroad.
A complete Electronic Access Control System
Keypad
Electronic keypads allow the ability to permit or deny the use of the entrance via a code which can be entered by using a numeric code, or PIN.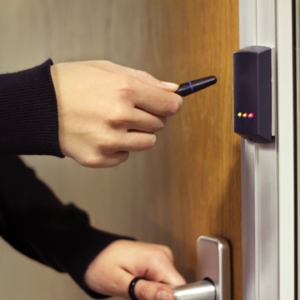 Proximity Reader
The readers allow access to rooms or buildings via the use of a fob, card, or increasingly a smart mobile device. Readers and keypads can be combined into a single product.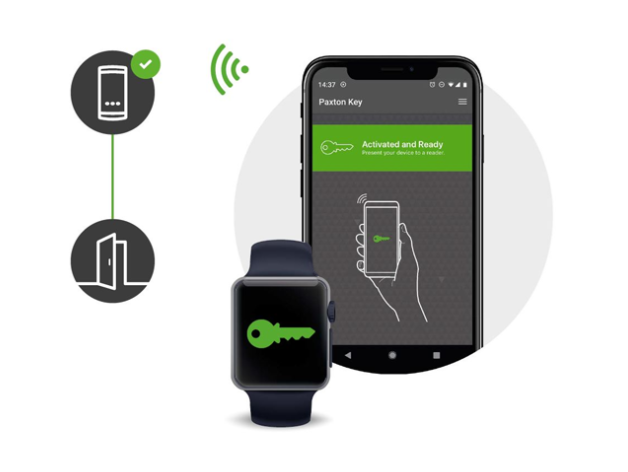 Smart Apps
Staff can easily be added or removed via the access control software. Once added staff can install apps onto mobile devices to access work spaces more easily without the need for cards or fobs.
Request to Exit
Where an exit door is not controlled a device called a request-to-exit (REX) is used. Request-to-exit devices can be a push button or a motion detector.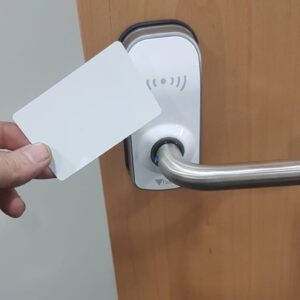 Proximity Cards/Fobs
Once programmed into the software the card or fob is ready for use. Simply present the token to a reader, the access permissions will be instantly looked up and access granted or denied as appropriate.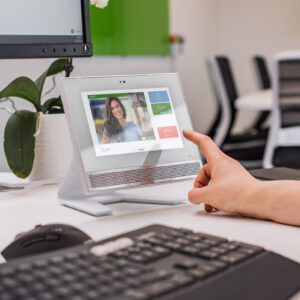 Door entry Monitors
When visitors approach your building, they can call via the bell button on the external panel. Once you have recognised the caller via either the audio or full colour, smart audio/video monitor, you can grant or deny access.
SSAIB Certification: giving you confidence
We are certified with the Security Systems & Alarms Inspectorate Board under its Electronic Security Systems Scheme. The certification for Access Control means that we have demonstrated that we have appropriate expertise in the design, provision, installation and/or maintenance of access control systems.
Our system designs must be appropriate to the nature of the risk identified; compliant with relevant legislation (including The Human Rights Act, the Data Protection Act and Disability Discrimination Act as appropriate) and satisfy agreed operational requirements.
Installing the right Access Control System for You
Operating across Bristol, south-west England and south Wales Security Group engineers are experts in a range of access control solutions and by working with you can recommend the right solution and adapt it to your specific needs.
Providing integrated solutions
When we talk to new clients we will aim to provide you with integrated solutions so we will begin by carrying out a complete security audit. At this stage we can advise you on the steps you can take to keep your premises secure and ensure existing systems are still meeting your needs. We are also specialists in intruder alarms and CCTV and have partnered with companies such as Paxton, Avigilon and Orisec who have developed their software to enable them to integrate their platforms with others making managing your security easier. Paxton10 is a fully integrated CCTV and access control solution while Avigilon Unity Access (formerly Avigilon Control Manager) works seamlessly with Avigilon's video management software, Avigilon Unity Video (formerly Avigion Control Center).
Understanding the latest Software Solutions
The Ecl-ips engineers take time to understand the latest software and products from our partners and suppliers which means we can save you time by understanding the latest security solutions and how they could help you when we visit your premises and conduct the security audit. Things to consider are that as a business grows the need to improve and update your existing security arrangements is likely to grow too and that the fast development of technology to make your life easier in recent years means that you will be missing out if you haven't upgraded your systems for some time.
This is particularly true in respect of the development of remote and cloud services giving you the ability to manage access control wherever you are along with your CCTV and intruder alarms systems.
Getting security right at the start of a build
We can also provide an early audit of your site if you are only in the early stages of a renovation or new build. Making security features part of the work will make your life easier in the long run and we can work with developers and builders of business, educational and residential properties to ensure safety and security is prioritised.
Our Access Control Partners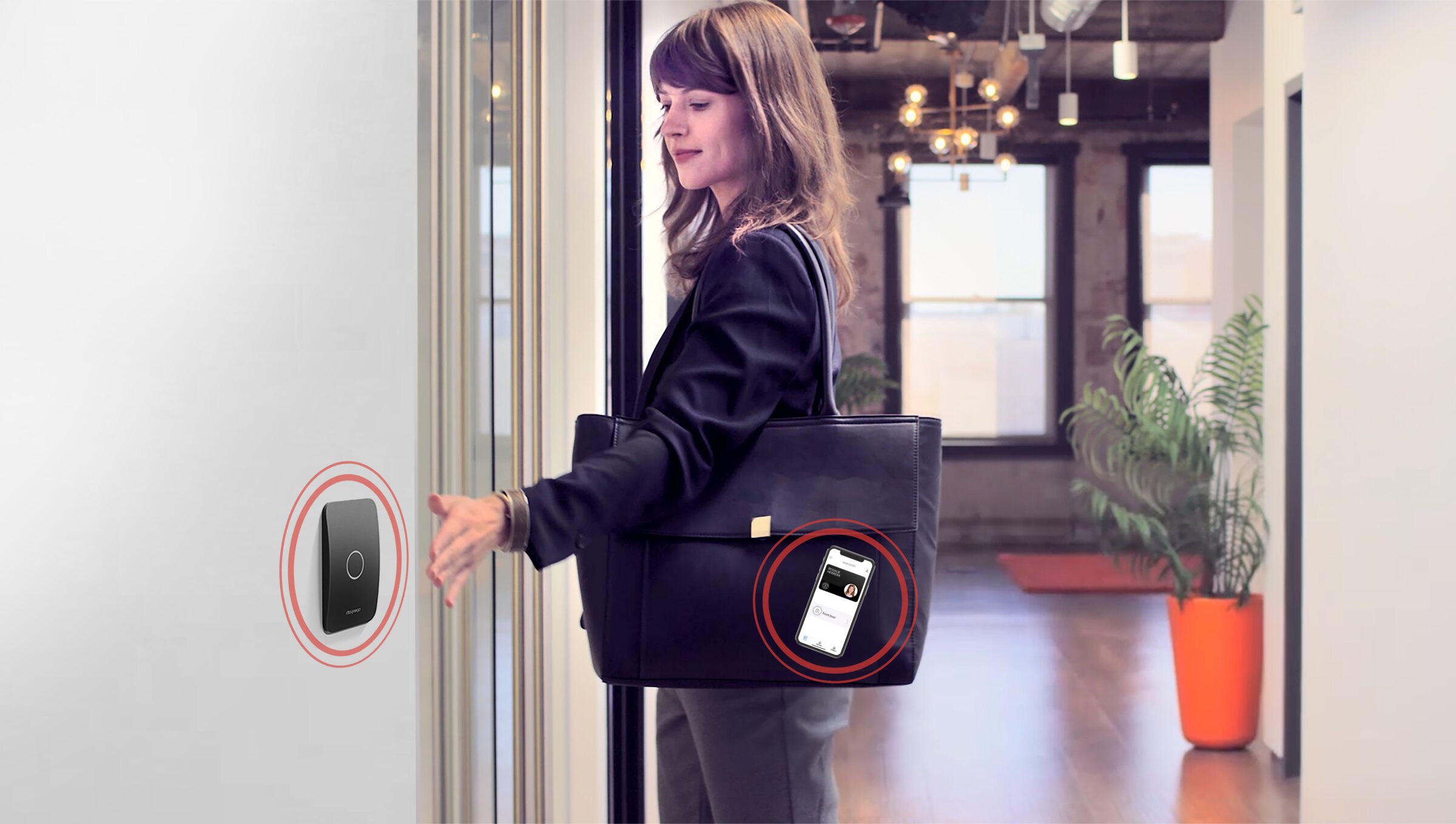 Avigilon Alta, formerly Openpath, access control delivers reliable keyless, mobile access control with smart video, intercom capabilities and cloud-based software. This software, state-of-the-art hardware and advanced record-keeping technology means easy access for users and effective remote management for site operators and owners.
The access control system is created with scalable technologies designed to secure everything from a single door, office, or a global enterprise with multiple buildings.
The Avigilon Alta access control solution: a complete package
Modern hardware: including readers and controllers with live video and two-way intercom.
Cloud-based software: Instant communication and updates all managed remotely via the cloud.
Encrypted credentials: Openpath readers support touchless access with smartphones, cards, fobs and Apple watch
The benefits of Avigilon Alta access control
Fast, reliable patented Triple Unlock technology that supports multiple secure access methods
Touchless mobile experience with digital badges, guest passes, and two-way intercom capabilities
Secure cloud-based software with remote management and automatic system updates
Real-time activity alerts, tracking, and visual monitoring
Seamless integrations through its open API (Application Programming Interface) platform
Beautifully designed hardware installs effortlessly to support anywhere from a single door to a multi-site enterprise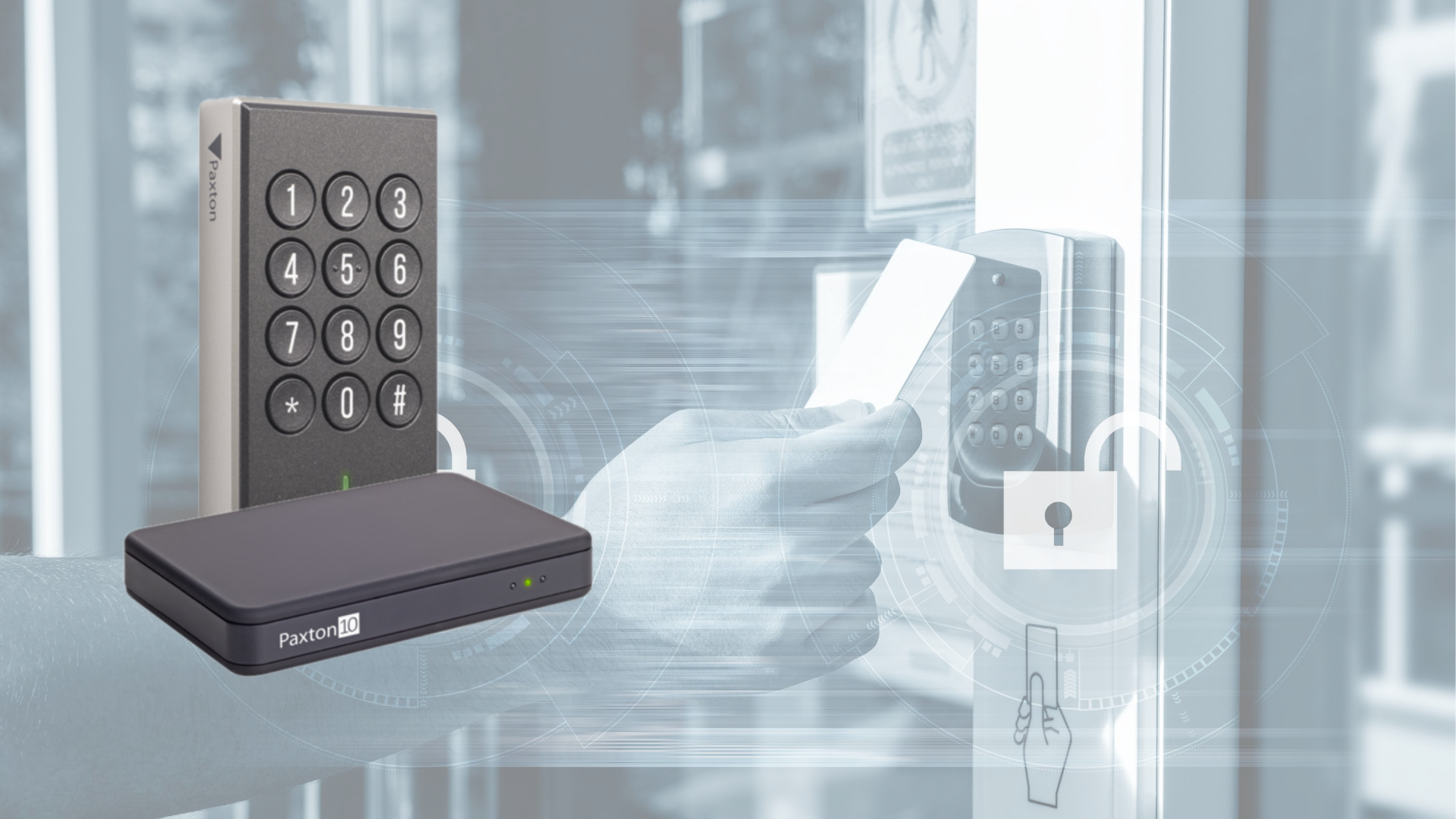 UK-based Paxton Access has over 30 years of experience, in designing and manufacturing market-leading security solutions for a range of buildings. Last year it launched upgrades to its Net2 solution to help organisations manage COVID-19 risks and these advances can also be use for other purposes.
Paxton aims to design and manufacture intelligent and innovative electronic access control products and its solutions are simple for those managing access to businesses, schools, colleges and other organisations as well as the users themselves. From its inception Paxton Access has aimed for engineering excellence and has become a market leader through its constant efforts to exceed the expectations of installers and system users.
Key Access Control Solutions
Paxton Key App: This app allows Paxton10 users to gain access through doors with their smartwatch, smartphone or tablet
Checkpoint Control: This Net2 feature allows you to control the flow of people through a building
Occupancy Management: Using Net2 you can restrict the numbers entering a particular area to encourage social distancing
Remote Management tools: Net2Online or the app, Paxton Connect, is available for Net2 and Paxton 10 users allowing you to manage access to your sites wherever you are.
Avigilon Unity Access
Avigilon Unity Access, formerly Avigilon Access Control Manager (ACM) is an on-premise access control system for enterprise-grade installations, built to keep people, property and assets safe and secure at all times. The platform is 100% browser-based and requires no software installation.
The Avigilon Unity Access solution can be developed for larger-scale companies and is engineered with IT professionals in mind. This is designed to help you focus on securing your people, property and assets, while giving you the flexibility to respond to alerts wherever you are. It integrates with Avigilon's CCTV software, Avigilon Unity Video, (previously Avigilon Control Center), to provide you with a powerful security solution.
Secure web-based access control
Web-based control panel software accessible from any browser with no software installation required
Easy to deploy with plug-and-play appliance installation
Built-in identity management, alarm management, and pre-defined or customizable reports in the browser
Quickly access door commands and global actions within the mobile-friendly app
Built with an open architecture to seamlessly integrate with third-party devices and systems
Frequently Asked Questions
What is Access Control?
Access control is the ability to permit or deny the use of a particular resource by a particular entity. Mechanisms can be used in managing physical resources (such as a theatre, to which only ticket holders should be admitted), logical resources (a bank account, with a limited number of people authorised to make a withdrawal) or digital resources (for example, a private text document on a computer, which only certain users should also be able to read).
What are the benefits of Electronic Access Control?
Access control allows you to manage your buildings more effectively and keep them more secure. It allows you to monitor people entering buildings, or parts of your site both if you are on site or off site via remote access.
What is an access point?
This can be a door, turnstile, parking gate, elevator, or other physical barrier where granting access can be electrically controlled.
How does access control work?
Typically the access point is a door. An electronic access control door can contain several elements. At its most basic there is a stand-alone electronic lock. In larger applications involving more than one door, electric strikes or magnetic locks are used. The lock is unlocked by an operator with a switch. To automate this, operator intervention is replaced by a reader. The reader could be a keypad where a code is entered, it could be a card reader, or it could be a biometric reader. Readers do not usually make an access decision but send a card number to an access control panel that verifies the number against an access list.
To monitor the door position a magnetic door switch is used. In concept the door switch is not unlike those on refrigerators or car doors. Generally only entry is controlled and exit is uncontrolled.
How do you manage exit points?
In cases where exit is also controlled a second reader is used on the opposite side of the door. In cases where exit is not controlled (free exit), a device called a request-to-exit (REX) is used. Request-to-exit devices can be a push button or a motion detector. When the button is pushed or the motion detector detects motion at the door, the door alarm is temporarily ignored while the door is opened. Exiting a door without having to electrically unlock the door is called mechanical free egress. This is an important safety feature. In cases where the lock must be electrically unlocked on the exit, the request-to-exit device also unlocks the door.
Where does Security Group install access control systems?
Security Group operates across south-west England and into South Wales. We have clients across this region including in Bristol, Bath and in other towns in Somerset and Wiltshire. Our address is 2530 Aztec West, Ground Floor, Aztec West, Almondsbury, BS32 4AW and we can be contacted by telephone: 0117 914 1180 or by email: info@securitygroupltd.co.uk. If you are outside this area and are interested in CCTV, intruder alarms or access control then take a look at the website of our parent company, Ecl-ips.