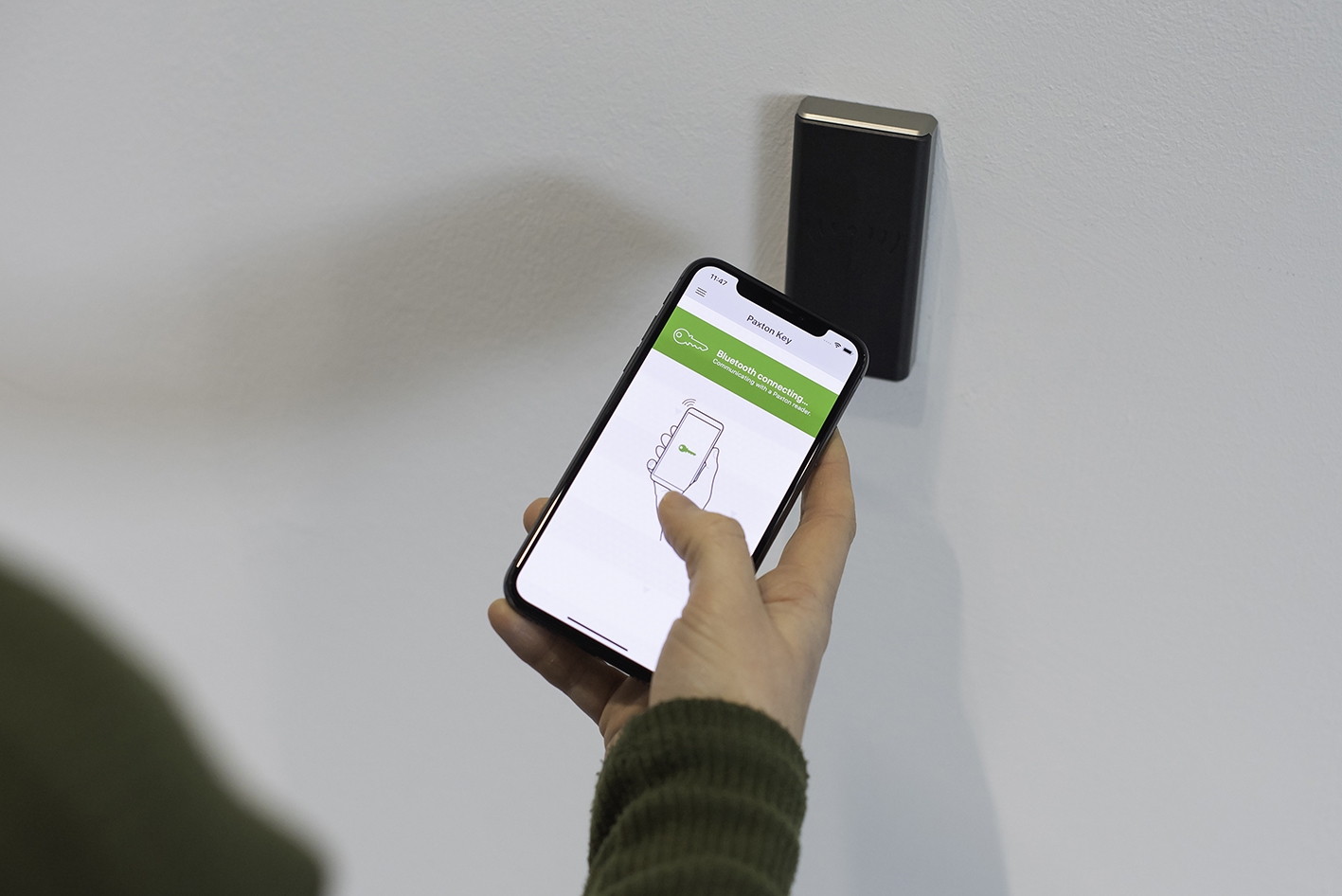 Have you invested in electronic access control, but struggle to reclaim fobs or access cards when staff move onto a new employer? Or is it a pain when people lose their fobs or cards? Paxton's latest access control system, Paxton10, has the perfect solution with its recently-launched Key App.
Electronic access control has many advantages over just using keys to access sites and buildings as you can easily remove staff from the system. However, while they still have some kind of physical card or fob it is still a potential risk, or cost when you need to get to get a replacement, if it gets lost or is not returned immediately.
The Paxton Key App allows access through doors with all brands and software of smartwatch, smartphone or tablet, it even works without ever taking your smartphone out of your bag or pocket. The App is an inclusive element of the Paxton10 package. The free Bluetooth smart credentials are easy to issue and use, and allows users to open any Paxton10 door using the Paxton Key app and is particularly useful:
If you have seasonal or temporary workers who otherwise would need to be issued cards or fobs for a short time period
For regular delivery drivers to your premises – whether directly employed or contracted by you
For students accessing accommodation or university premises
Using the Bluetooth technology, you can access a door using Paxton10 Key App Touch using one of three modes which help make access even easier:
Touch to enter: tap the reader with smart device in 1-2m range
Token mode: present smart device to reader as a token
Long range: ideal for car park barriers as the smart device is read at 5-10m range; this is also useful if you are carrying boxes or other equipment as you enter a building.
If you need extra security, you can set the system to ask for additional verification of an identity to allow access which could be the requirement to use the fingerprint facility on your smartphone. Paxton Key also enables the user to carry out predefined building management functionality, such as setting the intruder alarm, simply by presenting their smart credential.
Paxton10 is Paxton's latest electronic access control system and can offer a completely integrated access control and CCTV solution. It is perfect for small to medium-sized organisations who want an easy-to-use platform to meet their security needs.
At the core of the Paxton10 system is its server, which could be situated anywhere. Once you have the server installed your door and video controllers are connected to this and, crucially, no licences are required for cameras.
The server can support up to 1,000 doors. One controller is required for each door on the system. You can install Paxton10 cameras or integrate existing IP cameras with the system. One to four third party IP cameras can be controlled from a single video controller. Using Paxton's Connect app the Paxton10 solution can also be used for access control at multiple sites, which includes offices across the world.
Additionally, Paxton10 integrates with fire and intruder alarms to simplify building management. It is easy to control and monitor the state of alarms within the Paxton10 user interface. A dedicated Paxton10 alarm connector can be installed and neatly fitted into the connector housing, or into the housing of your fire or intruder alarm.
Our parent company, Ecl-ips, is a well-established Paxton partner which has been installing its Net2 solution for several years. Security Group is now able to fit Paxton and benefit from the expertise of the Ecl-ips engineers. Paxton10 also fits perfectly into our aim of offering you simple, but advanced, security solutions which can be accessed, ideally, from a single integrated platform.
If you run a business, school or another organisation in Bristol or across south-west England that would benefit from electronic access control, and want to know more, please contact us. We can find out which Paxton solution could help you over the phone or arrange to meet you and visit your site so we can offer a bespoke solution to meet your needs.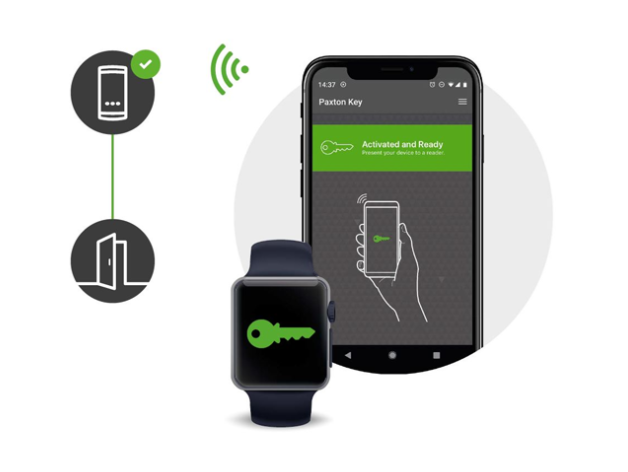 Being able to access doors at your work without searching for key fobs or cards would make everyone's life so much easier. Paxton Access Control has made this kind of convenience a reality with their Paxton Key App. This is available for users of its Paxton10 system as well as with PaxLock Pro and Entry panels.
Easy access: How to get started
The Paxton Key App allows access through doors with your smartwatch, smartphone or tablet. It even works without ever taking your smartphone out of your bag or pocket! The free Bluetooth smart credentials are easy to issue and use, and allow you to open any Paxton10 door. The Paxton Key app is available for iOS and Android phones, as well as Apple Watches and Wear OS devices.
To get started with Paxton Key you need to ensure that Bluetooth is enabled on the Paxton10 readers. The system administrator then needs to issue users with Smart Credentials via their user record in the Paxton10 user interface in the 'Add a credential' section.
The user will then receive an email containing download instructions for the Paxton Key app. The app is also available from: the Apple App Store*; Google Play** (*Requires iOS v11.0, **Requires Oreo v8.0). Finally, the user registers their Smart Credential in the Paxton Key app.
Using the Key App
Once you have installed the app there are three modes of operation:
Touch to enter: tap the reader with smart device in 1-2m range
Token mode: present smart device to reader as a token
Long range: ideal for car park barriers, smart device read at 5-10m range
Paxton Key then works using four simple steps:
1) A smartphone, tablet or smartwatch sends an encrypted advert up to a range of 10 metres
2) A Paxton10 reader connects
3) Exchanges Free Bluetooth credentials
4) Grants or denies access within milliseconds
Paxton10: Making Remote Access Easy
In April Paxton Access also launched Paxton10 Multi site allowing you to manage access control across multiples sites from a single point of management. Using Paxton10 Cloud Services you can expand your system easily from one server and manage staff and visitors more easily. In addition, Paxton has recently enhanced its remote management features as well as improved the usability of the system so that the user experience is better than ever.
The engineers at Security Group are experts in all of Paxton's access control solutions. Contact us on 0117 914 1180 if you want to know more about how we can hep you.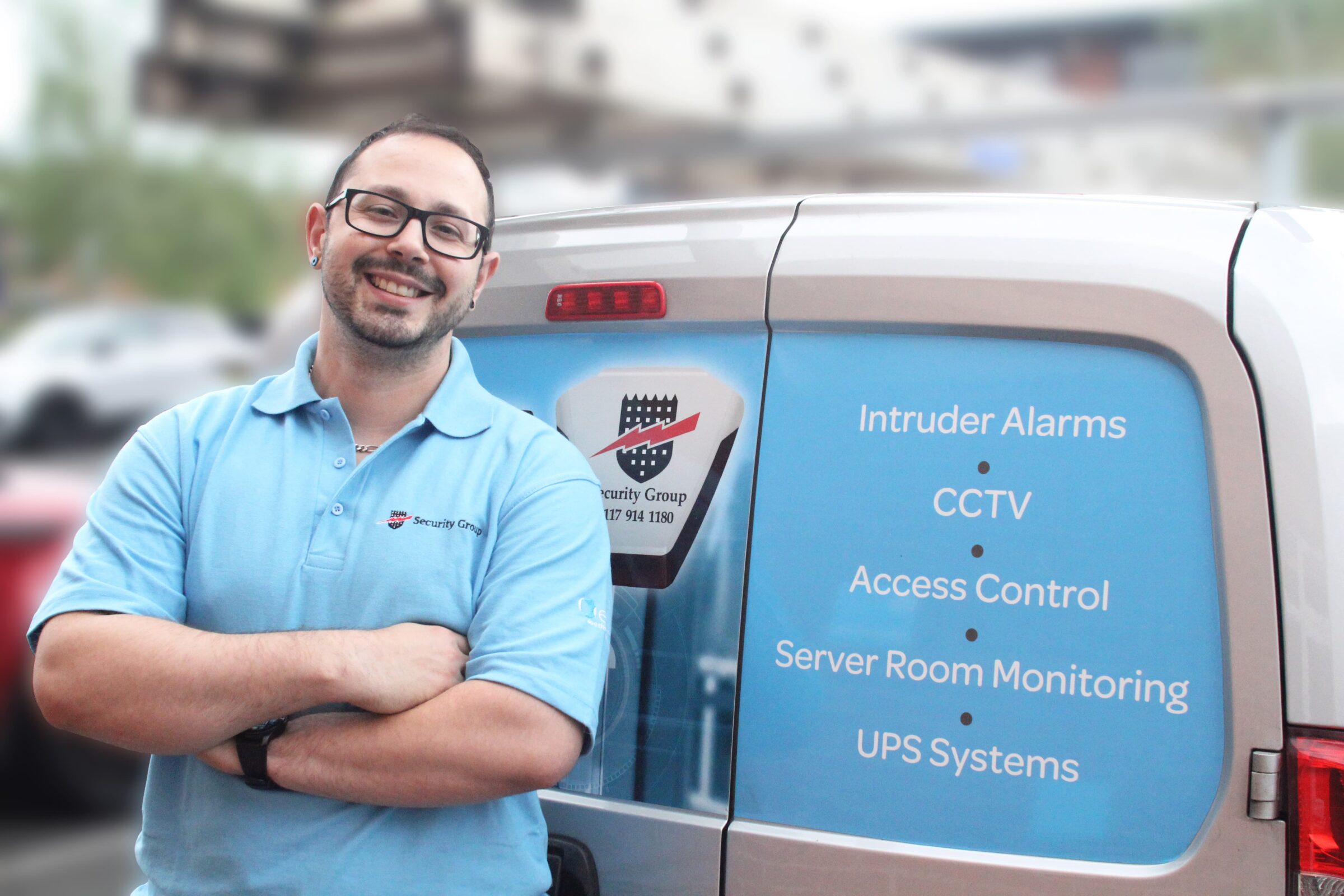 Security Group, a SSAIB-accredited company, has continued to operate safely during the latest Covid-19 lockdown and with more of the economy opening up from mid-April we are available to bring our security expertise to a wide range of organisations.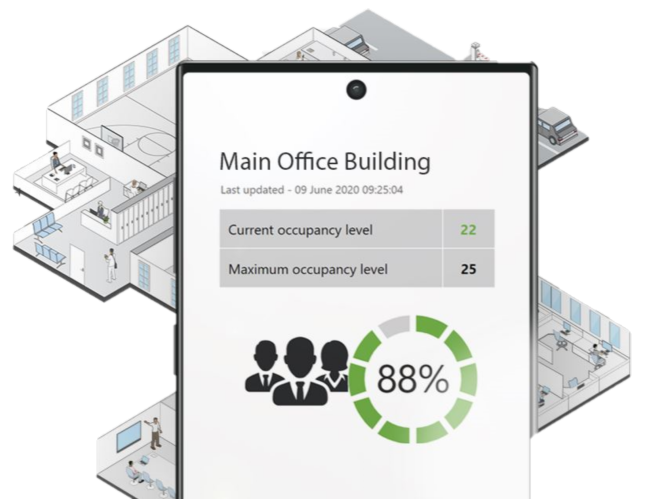 The current rise in Coronavirus (Covid-19) infections and the short-term lockdown will mean that businesses may find that remote management of the access control of sites could be incredibly beneficial as most staff return to working at home.
As a business expands across a commercial site, or to multiple sites, keeping track of staff and visitors can become increasingly difficult. Making sure you keep your offices secure, but you continue to allow efficient access to those working in the building, is made easier with electronic Access Control systems.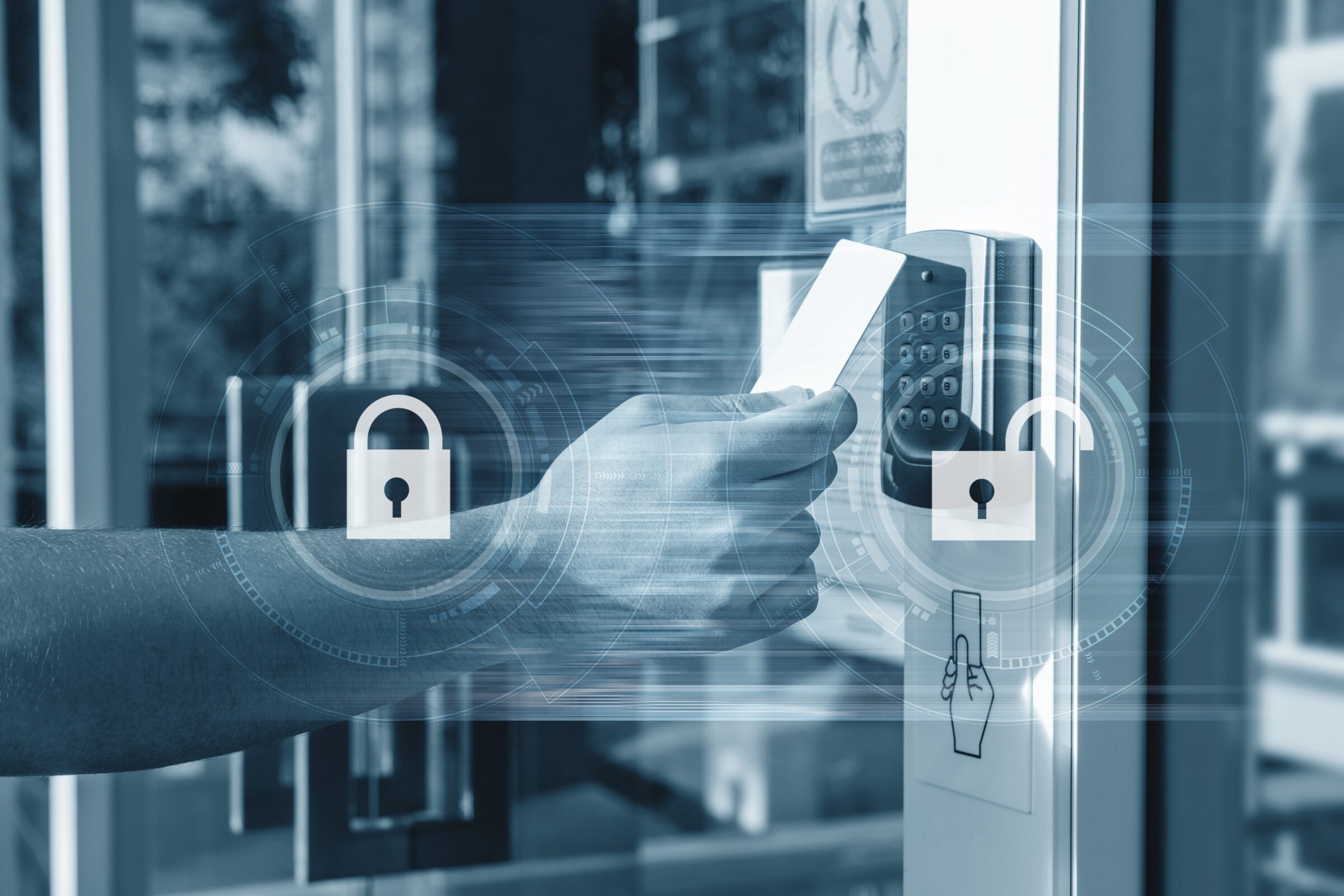 If you are struggling with knowing when staff or visitors are on your premises but also want an easy way for staff to access the building, then look no further than an electronic access control system.
Security Group, a family run company based in Bristol since 1996, has been bought by Ecl-ips a privately-run CCTV and access control system designer and installer based in Worcestershire which has always strived to offer clients the most advanced solutions it can.