As a SSAIB-certified CCTV installer Security Group is committed to maintaining best practice but we understand that for many of our customers data protection and best practice compliance can be a complex area.
However, if you are operating a CCTV system understanding your obligations in respect of protecting people's privacy is increasingly important as technology, such as facial recognition, becomes more advanced.
Fortunately, since 2013, there has been a framework for CCTV operators to follow in the form of the 12 Guiding Principles that make up the Surveillance Camera Code of Practice. The Government has also appointed a Surveillance Camera Commissioner, to encourage – but not to enforce – compliance with the Code.
Tony Porter held the post until the end of February 2021 when he was succeeded by Fraser Sampson, who was also appointed Biometrics Commissioner. Fraser has worked in the criminal justice sector for over 40 years having moved from serving in the police force into studying law and becoming a solicitor and most recently working as Chief Executive for Police, Fire & Crime Commissioners in Yorkshire. Fraser is also an Honorary Professor and Research Fellow at Sheffield Hallam University.
On his appointment Fraser outlined updating the Surveillance Camera Code of Practice as one of his priorities. Tony Porter had carried out a review of the impact of the Code in 2015 and produced recommendations for the government on updating the Code and had been calling for action but this has yet to happen.
The need for change has been recognised because of the advances in technology which were underlined recently by a legal case brought by a Cardiff resident Ed Bridges and represented by the human rights campaigning group, Liberty, who challenged South Wales Police's use of live facial recognition in public.
 "Following the Bridges judgment on the proper and accountable use of facial recognition technology, it's now more important than ever to produce a Code that's fit for purpose and is designed to stay up to date with the fast-paced evolution of surveillance camera technology," Fraser said.
However, the existing 12 Guiding Principles that make up the Surveillance Camera Code of Practice still provide CCTV operators with a systematic approach to managing CCTV compliance. This is why we now offer our customers access to the CCTV Logbook portal, which within its Compliance Package takes customers through the 12 Guiding Principles using a comprehensive step-by-step checklist. When the Surveillance Camera Code of Practice is updated CCTV Logbook will revise its compliance area to reflect any changes made to the 12 Guiding Principles.
Without this process compliance could be a burden for our customers but instead by completing all areas of compliance they can print off a certificate to display to others. While this is not an official document it demonstrates to that they are taking compliance seriously as a CCTV operator.
If you are based in Bristol or within south-west England and are looking for a CCTV installer that not only provides the best solutions for you but can also help you manage your system and CCTV compliance then Security Group can do this and will help you understand the CCTV Logbook portal. Contact us now to discuss all your CCTV needs either by phoning 0117 914 1180 or using our contact form.
Since Security Group was bought by Ecl-ips last year our team can offer a range of real-time monitoring solutions for organisations in Bristol and across the West Midlands. These monitoring sensors, appliances and advanced software can prevent IT downtime which can be time-consuming as well as costly for your business .
The focus of real-time monitoring is often on the larger data centres, which have expanded because of the growth of cloud data storage, but smaller and medium-sized organisations should not neglect the IT networks and devices within their premises.
The Security Group engineers are experienced in installing and maintaining APC Netbotz server room monitoring equipment as well as in the Schneider Electric monitoring software. As installers in digital CCTV, intruder alarms and access control the engineers are experienced in integrating IT assets into networks.
It also means the engineers can spot where organisations are making mistakes that could mean their IT networks are not going to be as efficient as they could be. For example, a server or a critical switch, may have been located in a cupboard that has become used for other purposes, creating a sub-optimal environment. They can offer Netbotz devices and demonstrate the value that server room monitoring will provide.
Recent figures from APC Schneider which looked at outages within data centres found that 22% can be attributed to human or accidental error, such as mistakenly leaving IT enclosures open. Meanwhile 11% of outages were attributed to water, heat, and equipment failures.
There are a range of APC Netbotz monitoring devices that we can recommend for you. For smaller or medium-sized organisations the APC Netbotz Rack Monitor 250, combined with APC Netbotz Rack Access Control, and the Schneider Electric software, Data Center Expert provides a truly integrated monitoring solution. When you purchase the Netbotz 250 temperature and humidity sensors are included and you can have up to six sensors, for other factors such as fluid, directly into the appliance.
Notifications of unusual events, such as a high temperature in the server room, will be sent directly to users while automated processes such as turning on roof fans to cool down the IT space can also be set up. Access to IT areas can also be restricted to only accredited people to reduce access control risks.
For larger organisations the APC NetBotz Rack Monitor 750 is an active monitoring solution designed to protect against environmental threats and unauthorised access risks that can cause downtime to IT infrastructure, in both data centre and edge computing environments. With its integrated suite of sensors, access control pods, and the HD Camera Pod 165, the NetBotz 750 safeguards environments with surveillance and flexible alerting based on user-definable thresholds.
Multiple NetBotz 750s can be managed through StruxureWare Data Center Expert, which stores and organises camera clips. It also enables a single view of multiple cameras, rapid search and retrieval of video, and tagging of important clips to provide an audit trail of who has been accessing critical IT equipment. The expansive monitoring of the APC NetBotz Rack Monitor 750 is easy to deploy, requiring only a single IP address and managed through a browser.
Having effective server room monitoring means you will be able to concentrate on running your core business rather than fire-fighting to retain business continuity. Investing in real-time monitoring will give you the peace of mind.
If you want to know more call us on 0117 914 1180 to discuss your server room monitoring needs or provide us with your details on our contact page and we will get back to you.
If you have a large area to secure such as a sports field, stadium, arena, large car park, retail park or town square then having fewer but more powerful CCTV cameras is a perfect solution.
This is exactly what the Avigilon H5 Pro Camera, available in 8, 16, 26, 40, and 61MP models, provides. The camera captures best-in-class image details over vast areas and provides maximum scene coverage through Avigilon's most powerful and innovative high-resolution camera yet.
If you already have H4 Pro Camera and need to upgrade you will notice improved low light performance as well as the enhanced frame rate which means you can achieve near live recording. Additionally, the new SFP port gives you the ability to have longer cabling distances.
Avigilon's patented High Definition Stream Management™ (HDSM) 2.0 technology. HDSM 2.0 patented technology meanwhile drastically reduces server-client bandwidth requirements and makes optimal use of computing and storage resources.
The Avigilon H5 Pro Camera (apart from the 40MP, and 61MP  models) is also embedded with Avigilon's next generation analytic capabilities which include Enhanced Object Detection and Tracking, Facial Recognition, Unusual Activity Detection, and Appearance Search Technology.
With the UK opening up, following the relaxing of the Coronavirus (COVID-19) restrictions, crowds are returning to places such as shopping and leisure venues increasing the need for more powerful surveillance, for example at sports matches or musical events. Additionally, you may have a large area while you still have rules to enforce, such as wearing of face coverings and social distancing, and the camera supports the occupancy counting and no face mask detection technologies developed over the past two years by Avigilon.
The Avigilon H5 Pro Camera will operate to its full potential when you integrate it with Avigilon's latest video management software, Avigilon Control Center 7. If you have ACC 7.4 or a higher version of the software its facial recognition technology allows you to create multiple watch lists and you can upload photographs to add an individual to a watch list.
Avigilon's next generation video analytics also provides enhanced performance in crowded spaces with the ability to classify more than 50 objects with improved accuracy. Different types and colours of vehicles can also be identified.
So if you have a large area to secure, want superior images from your cameras, and advanced analytics the Avigilon H5 Pro Camera could be the CCTV solution you need. Security Group can offer this and the whole range of Avigilon cameras to organisations in Bristol and across south-west England. We are Avigilon specialists and can support you to make the right camera choice.
To get in touch give Security Group a call on or click here to contact us.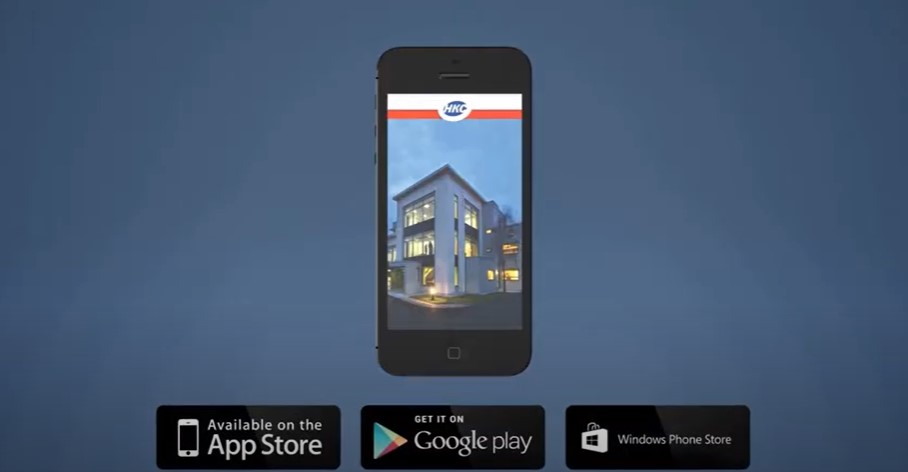 The HKC app for its intruder alarm system is simple to use and makes your life easier. Importantly you can set and unset your alarm on your smart phone when it is convenient for you. This function is one of the key benefits of the burglar alarm app which is available to install from the app stores on all smart devices.
Benefits of setting and unsetting the intruder alarm remotely
If you return from a shopping trip you can unset your alarm before you enter your house. This means when you arrive home with your bags of food you don't have to put them down in a hurry to unset the alarm.
Or if you leave the house and realise you have not yet set the alarm you can do so without re-entering the house. When you leave your property it also saves you the anxiety of the alarm of not being set. You can also separate your property into zones and part-set your alarm for that area if you need to.
To set the alarm within the HKC app press full or part set then put in your regular user code that you normally tap into your intruder alarm control panel. At this point the app will connect, which will take a few seconds and then the system will arm. To unset all you need to do is press unset and it will do this in seconds.
The many functions of the HKC App
The HKC app also has a log record which will display the last 100 alarm activations and actions of setting and unsetting the alarm. Alarm activations appear in red within the log. If you select the share log option you can share log events via email or SMS.
A further range of functions will improve your security. These include receiving notifications of:
activated alarms
changes to the alarm settings;
a technical fault with the alarm system
If the alarm is attached to a camera you will also receive a photo, which you can share with others.
For integrated systems you can turn on and off heating, lighting, a garage door or an electric gate on the outputs screen of the app. There are also controls to set when lights etc come on and go off.
Use a professional certified installer to set up the app properly
To ensure that all the alarm settings and additional settings operate properly in the app you will need the help of a professional installer, like Security Group. We have taken the time to test the alarm equipment and the app and will be able to advise you on the best solution for you.
We work across Bristol and across south-west England. Call us on 0117 914 1180 or contact us to find out more about all our intruder alarm systems and our integrated security solutions.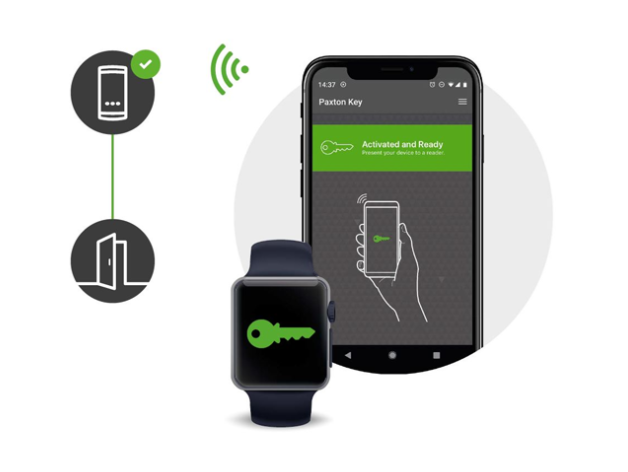 Being able to access doors at your work without searching for key fobs or cards would make everyone's life so much easier. Paxton Access Control has made this kind of convenience a reality with their Paxton Key App. This is available for users of its Paxton10 system as well as with PaxLock Pro and Entry panels.
Easy access: How to get started
The Paxton Key App allows access through doors with your smartwatch, smartphone or tablet. It even works without ever taking your smartphone out of your bag or pocket! The free Bluetooth smart credentials are easy to issue and use, and allow you to open any Paxton10 door. The Paxton Key app is available for iOS and Android phones, as well as Apple Watches and Wear OS devices.
To get started with Paxton Key you need to ensure that Bluetooth is enabled on the Paxton10 readers. The system administrator then needs to issue users with Smart Credentials via their user record in the Paxton10 user interface in the 'Add a credential' section.
The user will then receive an email containing download instructions for the Paxton Key app. The app is also available from: the Apple App Store*; Google Play** (*Requires iOS v11.0, **Requires Oreo v8.0). Finally, the user registers their Smart Credential in the Paxton Key app.
Using the Key App
Once you have installed the app there are three modes of operation:
Touch to enter: tap the reader with smart device in 1-2m range
Token mode: present smart device to reader as a token
Long range: ideal for car park barriers, smart device read at 5-10m range
Paxton Key then works using four simple steps:
1) A smartphone, tablet or smartwatch sends an encrypted advert up to a range of 10 metres
2) A Paxton10 reader connects
3) Exchanges Free Bluetooth credentials
4) Grants or denies access within milliseconds
Paxton10: Making Remote Access Easy
In April Paxton Access also launched Paxton10 Multi site allowing you to manage access control across multiples sites from a single point of management. Using Paxton10 Cloud Services you can expand your system easily from one server and manage staff and visitors more easily. In addition, Paxton has recently enhanced its remote management features as well as improved the usability of the system so that the user experience is better than ever.
The engineers at Security Group are experts in all of Paxton's access control solutions. Contact us on 0117 914 1180 if you want to know more about how we can hep you.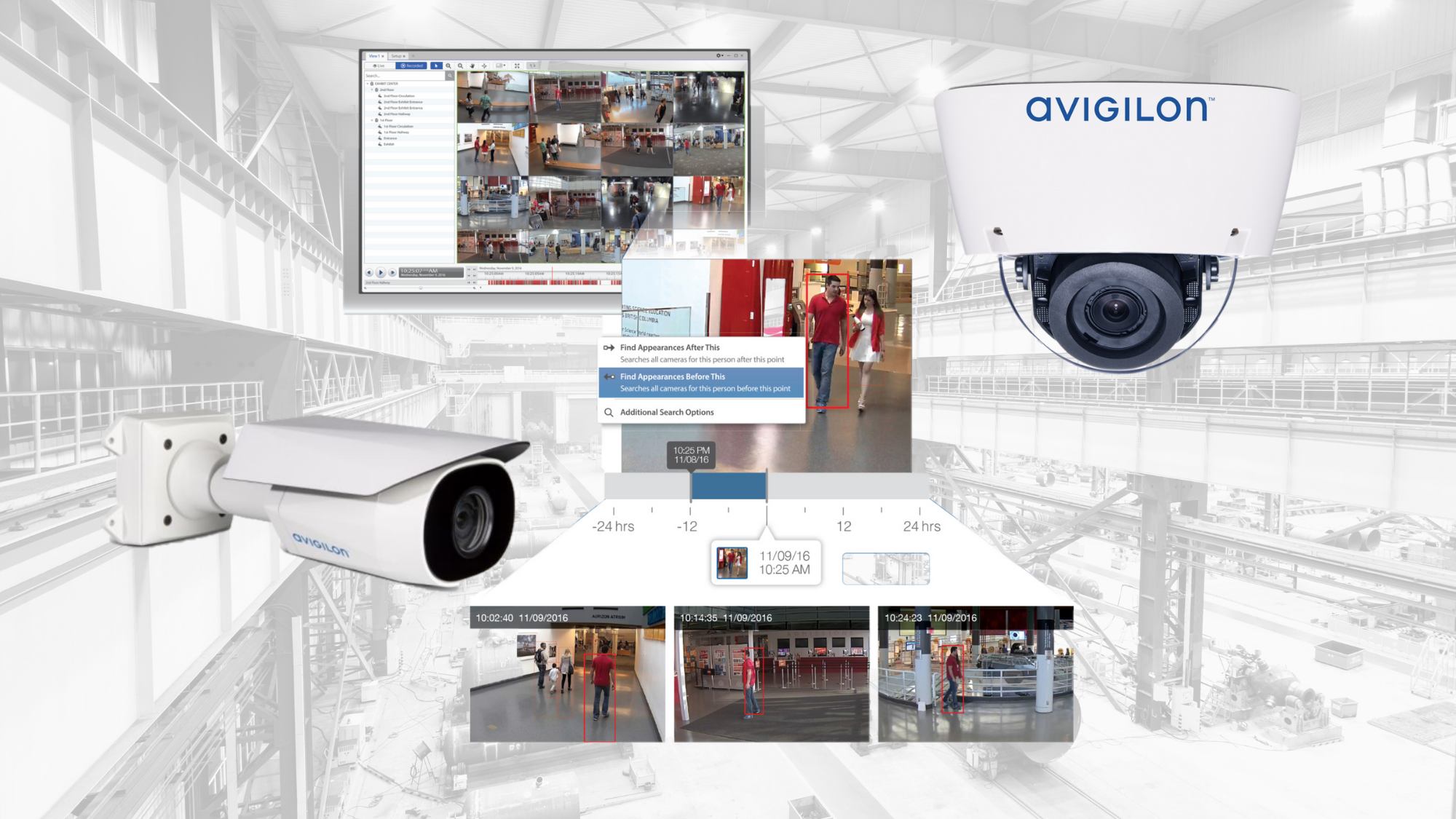 Deciding on a reliable IP camera solution could be a headache, especially for small organisations. It is not just about picking a reliable supplier and installer; it is also about understanding the equipment you need to have a complete CCTV system.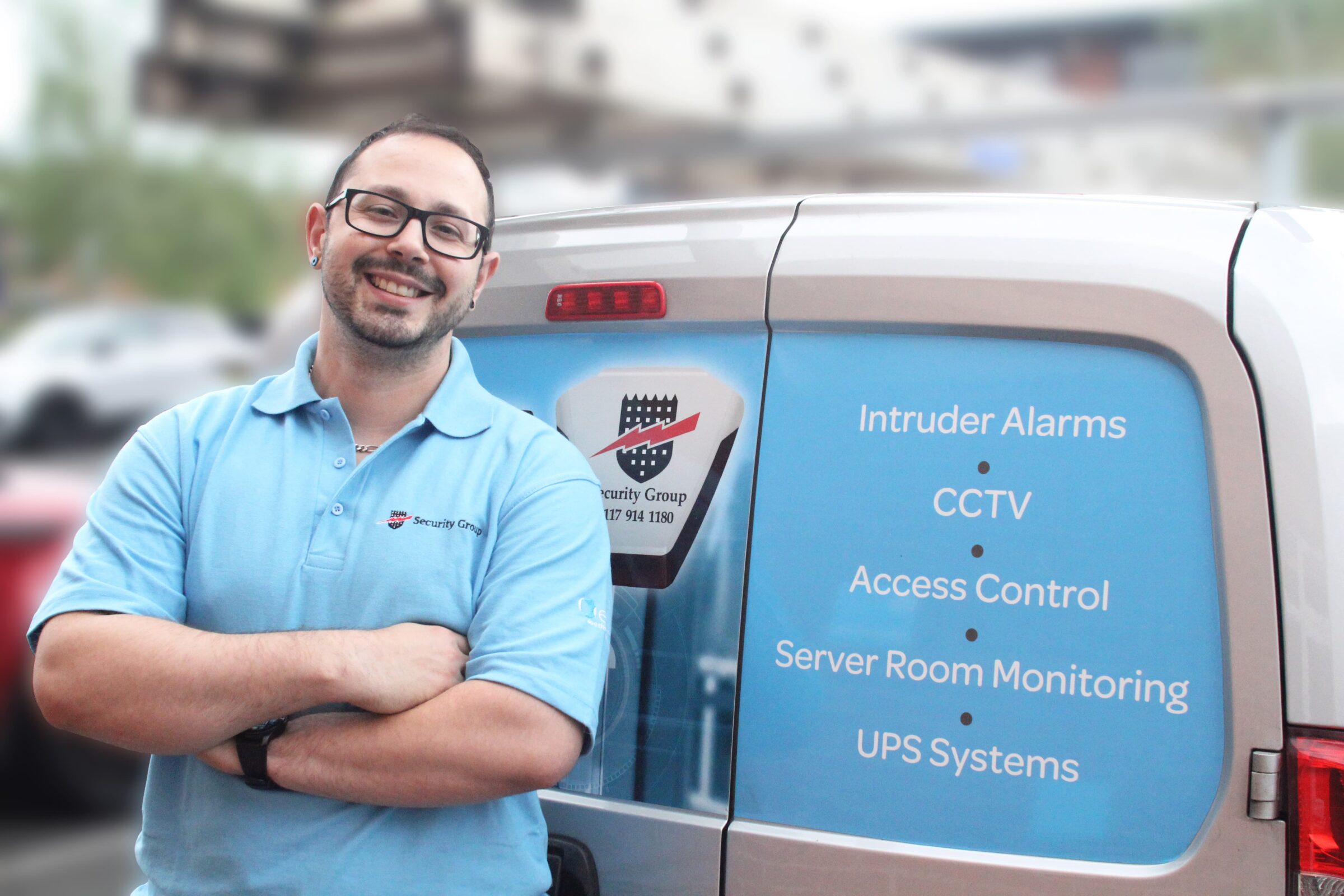 Security Group, a SSAIB-accredited company, has continued to operate safely during the latest Covid-19 lockdown and with more of the economy opening up from mid-April we are available to bring our security expertise to a wide range of organisations.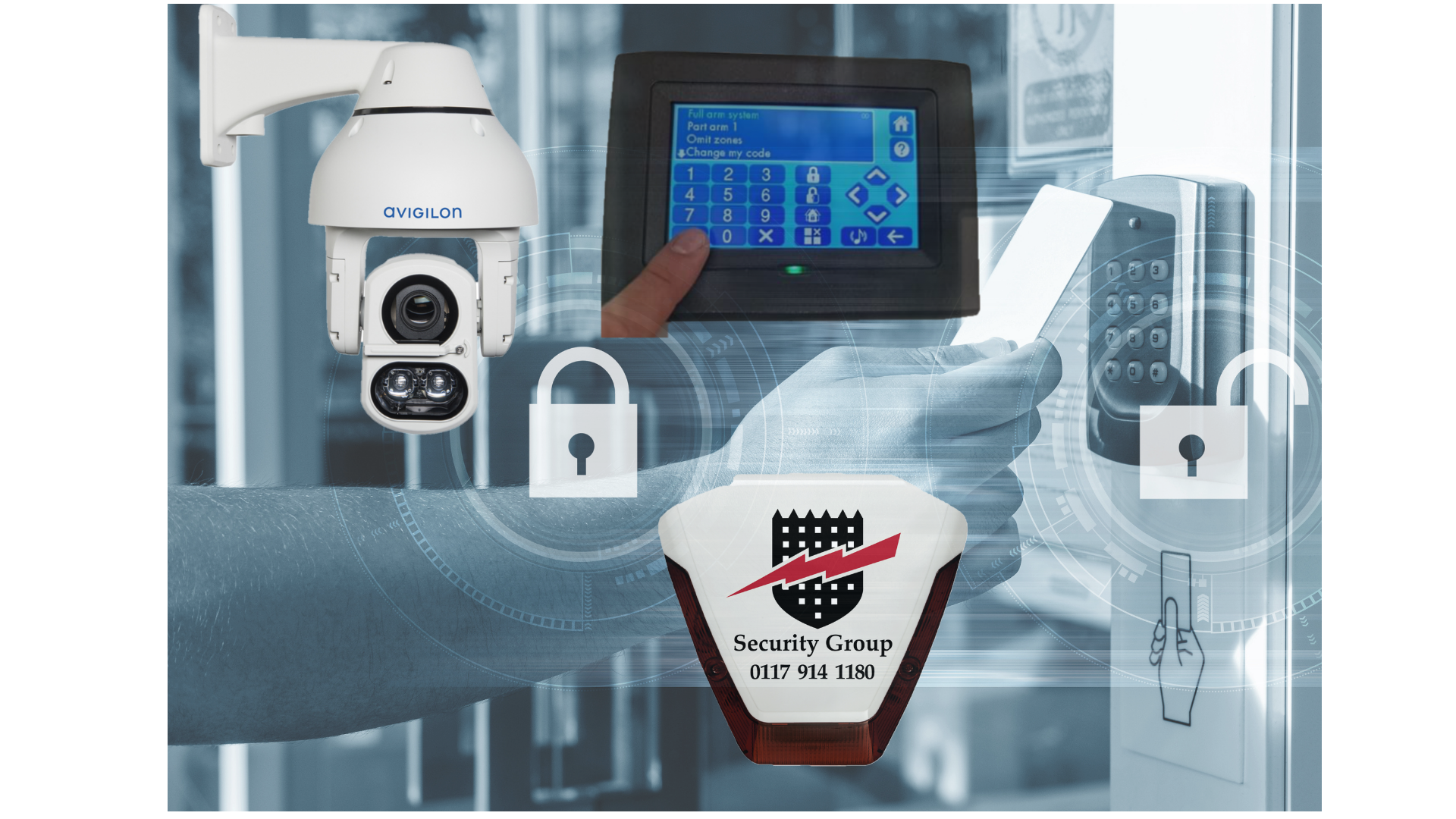 Unplanned or gradual changes in your security systems, that may mean your company is not keeping up with the latest technology, can result in you working a lot less efficiently than you need to be.
Are you concerned that your CCTV system is not fulfilling your needs? Security Group can carry out a CCTV audit to assess what you have and suggest improvements.
If you are looking for a way to properly monitor your site for health and safety or surveillance purposes and want to reduce the need for extra staff then advanced CCTV with in-built analytics can help.