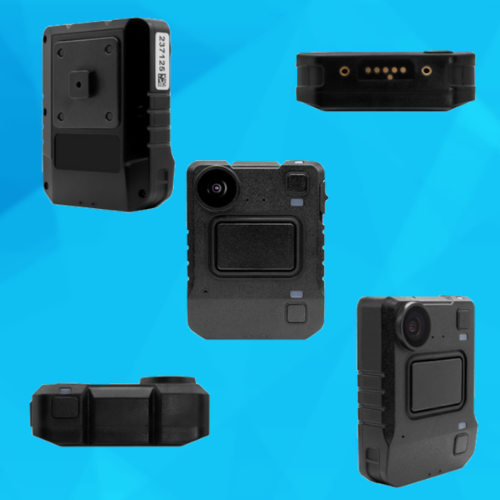 If you are a member of the security staff in retail, transport, within a hospital or at a leisure venue then having extra support when you are out on patrol is important to help you with dealing challenging situations. If you are operating CCTV having a connection with those on patrol could make all the difference between capturing vital images for evidence gathering and missing out.
Supporting front-line security staff
Body-worn cameras provide that connection between front-line security staff and those monitoring the CCTV. In a range of situations security professionals may be subject to abuse from customers or members of the public and feel unsafe. Without additional support they may not wish to continue in their roles.
Having the highest quality body worn cameras that are toughened and able to withstand a range of weather conditions including rain, snow and dust will mean they will work whatever the situation. The Motorola Solutions VB400 is the next generation of body-worn camera technology that is built with a toughened exterior that has been tested to military standards. The large central button and robust side switch are positioned for easy operation, even when wearing gloves.
Easily connected to Bluetooth and Wi-Fi
The body worn cameras can be connected both via Bluetooth and Wi-Fi which will deliver a powerful mix of capabilities. Live streaming connects your team to the control room, improving the awareness of staff to events outside giving them an indication when to provide back up.
Additionally, the advanced technology means that if paired with select radios over Bluetooth, the VB400 can automatically record when the user's radio enters an "emergency state", when the user presses the radio's emergency button, and when the radio's man down sensor detects the user is down.
Like the VT100 body-worn camera it can be integrated with the video management software, Avigilon Control Center 7 ,which means activation of recording will generate a motion start event and display the camera's live video feed. This footage can be used alongside a building's fixed camera to provide information about a situation. This can be used at the time to provide appropriate assistance to staff or when evidence gathering about an event.
We offer the full Avigilon range from Motorola Solutions
Security Group is a partner with Avigilon, which is part of Motorola Solutions. Our engineers have experience of installing CCTV across a range of settings including schools, shops, large private properties and large commercial premises. So if you are an organisation based in Bristol or across south-west England we can can spend time with you to create a bespoke solution that will best suit your needs.
To find out more the Avigilon body-worn cameras and the rest of the Avigilon solutions contact us.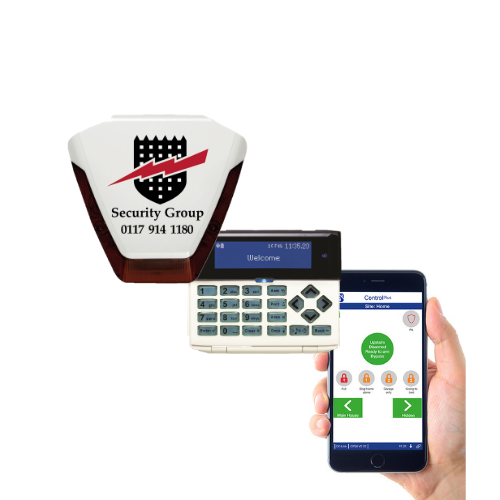 If you are a business that is at risk from burglaries or vandalism due to the location of your premises, or the high value of your equipment or products, then it is essential you install a modern intruder alarm system and have it regularly maintained and supported.
Your insurance company will also have required standards for the alarm systems that you can have installed in order to ensure they will pay out if you have to make a claim. Additionally, having a high standard intruder alarm system should help to reduce your insurance premiums.
Meanwhile, having a reliable intruder alarm system that can also be managed remotely by you ensuring you have control even out of opening hours means less disruption for you or your staff if the alarm is triggered.
Security Group has selected Orisec as one of our burglar alarm suppliers because its products are reliable and easy to install. Orisec intruder alarm systems are designed and manufactured in the United Kingdom and are only available from professional installers like Security Group .
Additionally, we find Orisec's cloud portal and app simple to use while also offering advanced features, which means we can support you more effectively if there are problems and you are able to control your intruder alarm system more easily.
The cloud portal means we are able to offer remote maintenance of your intruder alarm system and also means you can control our engineer access to your sites and maintenance reports are emailed directly to your inbox.
The key features of the Orisec app are the ability to:
Receive notifications of when alarms are activated which could be for a break-in, fire or flood;
Set and unset your alarm system, which includes full setting or just part-setting the alarm, wherever you are;
Provide reassurance that elderly or younger relatives are safe and well through its Family Care function;
Remotely control other systems or devices if connected such as CCTV, gates and lights.
An Orisec intruder alarm system will be of benefit for a range of premises and organisations such as schools; shops; healthcare settings; warehouses; factories; leisure centres; gyms or entertainment venues.
So, if you are based in Bristol or across south-west England and are planning on installing a modern intruder alarm system or need to upgrade your existing system then get in touch with us. We can offer a free security audit that ensures we fully understand your needs and can offer the right Orisec solution for you.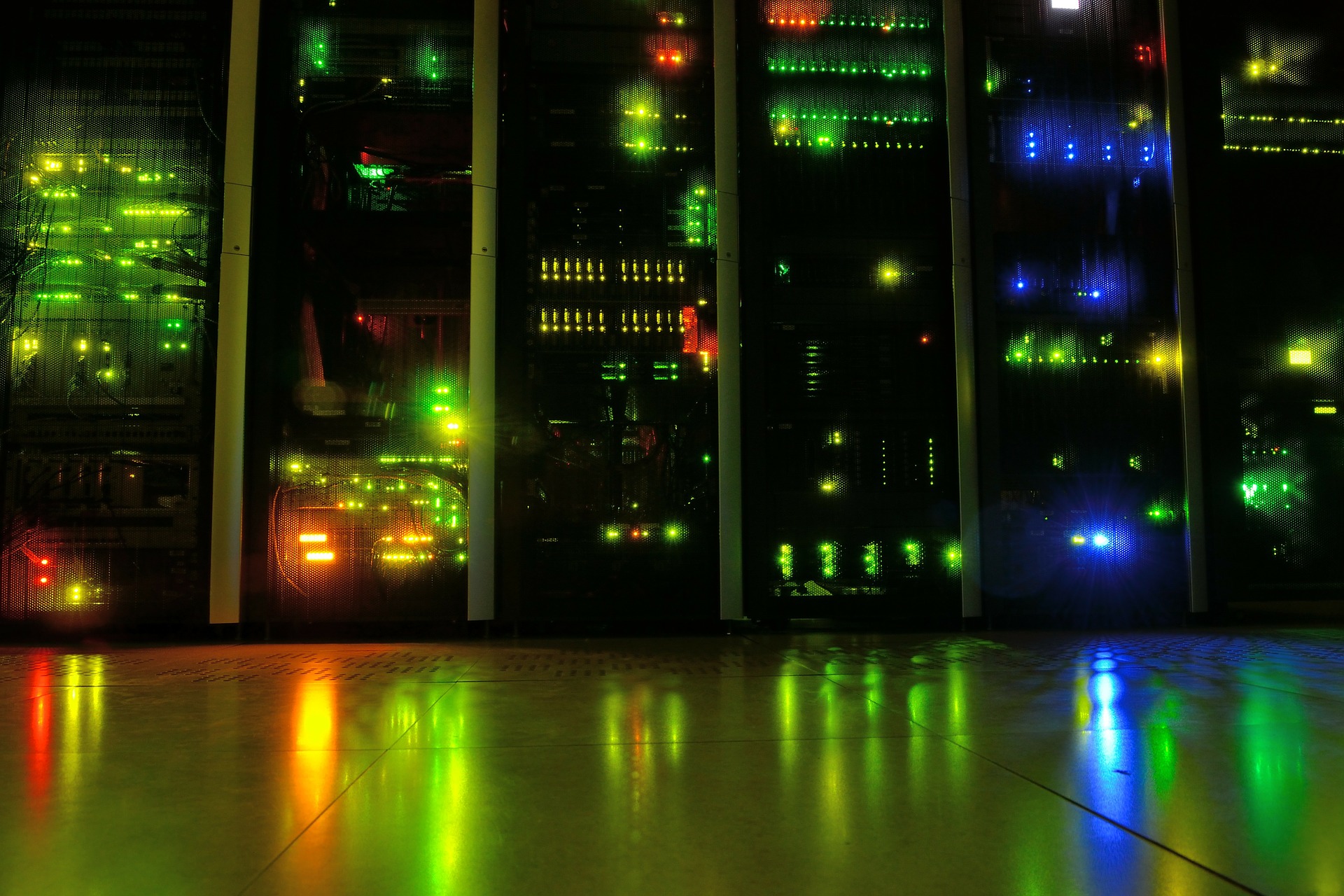 As well as being specialists in security solutions we now have expertise in server room monitoring for your IT devices which we can offer to organisations in Bristol and across south-west England which will help you maintain business continuity.
If you run a small or medium size enterprise you may not see the point in real-time monitoring but when our engineers install CCTV, access control or intruder alarms they are often able demonstrate the value that it will provide. For example, a server or a critical switch, may have been located in a cupboard that has become used for other purposes, creating a sub-optimal environment for that equipment.
If you have effective real-time monitoring you will be able to concentrate on running your core business rather than firefighting to retain business continuity. Otherwise, when you realise you have a problem you may already been hit with IT downtime that could cost you lost revenue and new business.
Maintaining the correct Temperature
Additionally, the IT equipment in server rooms work best if it is kept at a constant temperature and ideally you want to increase the set points for that temperature so that the air conditioning units are not working too hard to retain that level.
The air conditioning unit is likely to be switching on and off constantly as it works to maintain a temperature if it is working inefficiently. However, if the system is working efficiently, you save the energy as the air conditioning units can have a higher set point. By monitoring temperature, you will be able to manage your energy use and boost your energy efficiency, which will save you money over time.
APC Netbotz Devices are a perfect solution
We can offer a broad range of real-time monitoring hardware from APC NetBotz and have expertise in the software from Schneider Electric. To improve your real-time monitoring further we have experience in integrating a lot of third-party devices from various manufacturers into our platforms. For example, APC Netbotz monitoring appliances can monitor third party devices such as air conditioning units, UPS devices and many other third-party sensors.
The APC NetBotz appliances can also operate independently or as part of an enterprise management solution. With the installation of monitoring products, the IT staff can monitor the computer room, whether at their desk or working from home. Units can also be configured to alert technical support staff of potential issues via email, SMS or via SNMP. You can group the Netbotz appliances together and offer a completely scalable solution. As the software is installed through a web browser it is easy to set up and use.
If you are unsure what real-time monitoring appliances or sensors you need, want to ensure that your existing monitoring infrastructure is meeting your current needs or you need advice on how to store your IT appliances we will be happy to advise. To find out more about the benefits of real-time monitoring in maintaining business continuity in organisations of all sizes contact us.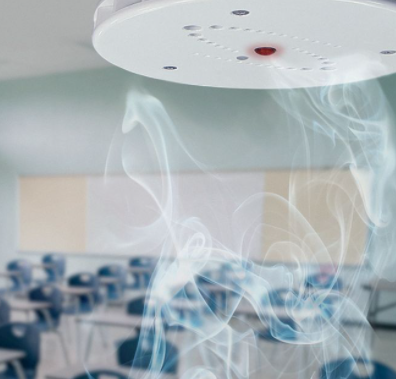 If you own or manage a hotel or leisure complex, or are responsible for safety and security on a school, college or university campus or student accommodation, you may be looking for a smarter way to create a safer and cleaner environment for staff, guests or students.
Halo Sensor detects signs of smoking or vaping
These could be in rooms where CCTV cameras are not allowed, or are not appropriate, but where you want to ensure people are protected and illegal or antisocial behaviour is detected. This is when more advanced monitoring could help. This monitoring could be for environmental threats such as potential gas or chemical leaks; ensuring that aggressive or criminal behaviour between or by people is detected and dealt with and picking up signs of vaping or cannabis smoking inside.
Security Group can now offer a solution that will support you from Motorola Solutions and Avigilon. This is the HALO IOT Smart Sensor (HALO), built by IPVideo Corporation. Using the latest smart technology and with privacy in mind, it adds a layer of security in places that are not covered by CCTV surveillance enabling you to deal with a range of challenging situations and maintain safer and cleaner spaces.
Non-intrusive device that will protect people
For example, you will have an additional sensor that could help provide alerts when students are suffering from bullying or somebody becomes involved in a fight or that is able to detect a variety of particulates in the air so that it can help to prevent the spread of infectious diseases.
Specifically, this all-in-one intelligent device can be used for:
Vape and THC (tetrahydrocannabinol, found in cannabis) Detection,
Air Quality Monitoring
Aggression Detection
Calls for Help
Gunshot Detection,
Spread of Infectious Diseases Prevention
Chemical and Gas Detection
Vandalism and Trespassing Alerts
The sensor has been designed so it is a non-intrusive security device that does not take away from a room's ambiance making it ideal for hotel bedrooms, bathrooms and other similar spaces. As well as protecting individuals the sensor prevents damage and associated cleaning costs that are caused by smoke particles and poor air quality helping you save money over time.
Integration with ACC7: Quick notification of issues
Meanwhile, the HALO integrates into a broader security infrastructure and provides data analytics to monitor violation alarm rates. By integrating the HALO with the powerful Avigilon Control Center 7 (ACC7) video management software users will be able to receive an alarm in the Focus of Attention interface. This occurs once the HALO senses a threat.
At that point, Radio Alert will be able to notify security personnel or administrators through a text message, a voice-to-text alert, or both, when an alarm is triggered, enabling them to understand the situation and to respond quickly.
Avigilon, which is now part of Motorola Solutions, is the preferred CCTV supplier for Security Group. This is the latest in a line of innovative products from Avigilon we are excited to offer you. If you want to know more about the benefits of an Avigilon-led solution then please contact us.
As a SSAIB-certified CCTV installer Security Group is committed to maintaining best practice but we understand that for many of our customers data protection and best practice compliance can be a complex area.
However, if you are operating a CCTV system understanding your obligations in respect of protecting people's privacy is increasingly important as technology, such as facial recognition, becomes more advanced.
Fortunately, since 2013, there has been a framework for CCTV operators to follow in the form of the 12 Guiding Principles that make up the Surveillance Camera Code of Practice. The Government has also appointed a Surveillance Camera Commissioner, to encourage – but not to enforce – compliance with the Code.
Tony Porter held the post until the end of February 2021 when he was succeeded by Fraser Sampson, who was also appointed Biometrics Commissioner. Fraser has worked in the criminal justice sector for over 40 years having moved from serving in the police force into studying law and becoming a solicitor and most recently working as Chief Executive for Police, Fire & Crime Commissioners in Yorkshire. Fraser is also an Honorary Professor and Research Fellow at Sheffield Hallam University.
On his appointment Fraser outlined updating the Surveillance Camera Code of Practice as one of his priorities. Tony Porter had carried out a review of the impact of the Code in 2015 and produced recommendations for the government on updating the Code and had been calling for action but this has yet to happen.
The need for change has been recognised because of the advances in technology which were underlined recently by a legal case brought by a Cardiff resident Ed Bridges and represented by the human rights campaigning group, Liberty, who challenged South Wales Police's use of live facial recognition in public.
 "Following the Bridges judgment on the proper and accountable use of facial recognition technology, it's now more important than ever to produce a Code that's fit for purpose and is designed to stay up to date with the fast-paced evolution of surveillance camera technology," Fraser said.
However, the existing 12 Guiding Principles that make up the Surveillance Camera Code of Practice still provide CCTV operators with a systematic approach to managing CCTV compliance. This is why we now offer our customers access to the CCTV Logbook portal, which within its Compliance Package takes customers through the 12 Guiding Principles using a comprehensive step-by-step checklist. When the Surveillance Camera Code of Practice is updated CCTV Logbook will revise its compliance area to reflect any changes made to the 12 Guiding Principles.
Without this process compliance could be a burden for our customers but instead by completing all areas of compliance they can print off a certificate to display to others. While this is not an official document it demonstrates to that they are taking compliance seriously as a CCTV operator.
If you are based in Bristol or within south-west England and are looking for a CCTV installer that not only provides the best solutions for you but can also help you manage your system and CCTV compliance then Security Group can do this and will help you understand the CCTV Logbook portal. Contact us now to discuss all your CCTV needs either by phoning 0117 914 1180 or using our contact form.
Since Security Group was bought by Ecl-ips last year our team can offer a range of real-time monitoring solutions for organisations in Bristol and across the West Midlands. These monitoring sensors, appliances and advanced software can prevent IT downtime which can be time-consuming as well as costly for your business .
The focus of real-time monitoring is often on the larger data centres, which have expanded because of the growth of cloud data storage, but smaller and medium-sized organisations should not neglect the IT networks and devices within their premises.
The Security Group engineers are experienced in installing and maintaining APC Netbotz server room monitoring equipment as well as in the Schneider Electric monitoring software. As installers in digital CCTV, intruder alarms and access control the engineers are experienced in integrating IT assets into networks.
It also means the engineers can spot where organisations are making mistakes that could mean their IT networks are not going to be as efficient as they could be. For example, a server or a critical switch, may have been located in a cupboard that has become used for other purposes, creating a sub-optimal environment. They can offer Netbotz devices and demonstrate the value that server room monitoring will provide.
Recent figures from APC Schneider which looked at outages within data centres found that 22% can be attributed to human or accidental error, such as mistakenly leaving IT enclosures open. Meanwhile 11% of outages were attributed to water, heat, and equipment failures.
There are a range of APC Netbotz monitoring devices that we can recommend for you. For smaller or medium-sized organisations the APC Netbotz Rack Monitor 250, combined with APC Netbotz Rack Access Control, and the Schneider Electric software, Data Center Expert provides a truly integrated monitoring solution. When you purchase the Netbotz 250 temperature and humidity sensors are included and you can have up to six sensors, for other factors such as fluid, directly into the appliance.
Notifications of unusual events, such as a high temperature in the server room, will be sent directly to users while automated processes such as turning on roof fans to cool down the IT space can also be set up. Access to IT areas can also be restricted to only accredited people to reduce access control risks.
For larger organisations the APC NetBotz Rack Monitor 750 is an active monitoring solution designed to protect against environmental threats and unauthorised access risks that can cause downtime to IT infrastructure, in both data centre and edge computing environments. With its integrated suite of sensors, access control pods, and the HD Camera Pod 165, the NetBotz 750 safeguards environments with surveillance and flexible alerting based on user-definable thresholds.
Multiple NetBotz 750s can be managed through StruxureWare Data Center Expert, which stores and organises camera clips. It also enables a single view of multiple cameras, rapid search and retrieval of video, and tagging of important clips to provide an audit trail of who has been accessing critical IT equipment. The expansive monitoring of the APC NetBotz Rack Monitor 750 is easy to deploy, requiring only a single IP address and managed through a browser.
Having effective server room monitoring means you will be able to concentrate on running your core business rather than fire-fighting to retain business continuity. Investing in real-time monitoring will give you the peace of mind.
If you want to know more call us on 0117 914 1180 to discuss your server room monitoring needs or provide us with your details on our contact page and we will get back to you.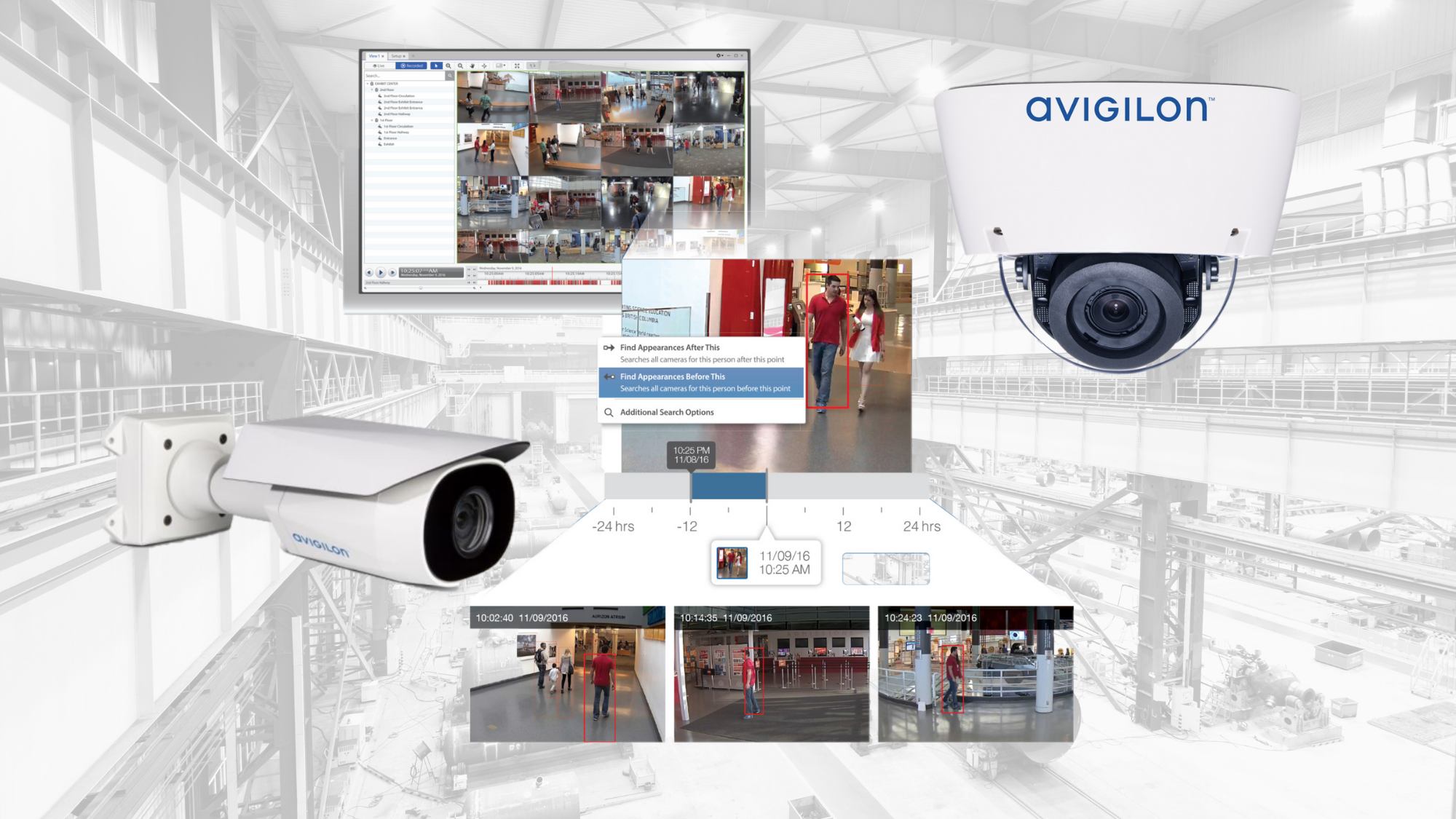 Deciding on a reliable IP camera solution could be a headache, especially for small organisations. It is not just about picking a reliable supplier and installer; it is also about understanding the equipment you need to have a complete CCTV system.