Security Group can now offer organisations in Bristol or across south-west England the latest advanced analytics from Avigilon which is embedded into its H5A CCTV cameras. Rather than just seeing something is moving these cameras can analyse a view and work out what is moving. For example, whether it is a person or a vehicle.
Search rapidly for people and vehicles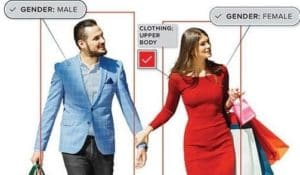 Meanwhile you can search for people or vehicles based on descriptions of them and specify the time of when they were in a particular area using the Avigilon video management software Avigilon Control Center 7.
This means if you are responsible for security at a shopping centre and a person has been spotted potentially shoplifting you would be able to create a search based on information you have been given on whether they were a man or woman, their approximate age and the colour of their clothing.
Avigilon Appearance Search sorts through hours of video with ease and quickly displays all the footage that features that person across the entire site. While investigating critical events, time is of the essence, so by working with descriptions given of people and the time of incidents CCTV operators will quickly be able to assist investigations.
Able to spot specific people even in crowded spaces
The latest upgrades of ACC7 enhanced the performance of the technology in crowded spaces and provided the ability to classify more than 50 objects with improved accuracy. If you have ACC 7.4 or a higher version of the software its facial recognition technology allows you to create multiple watch lists and you can upload photographs to add an individual to a watch list.
Avigilon have also added watch list profiles that can be created using an uploaded image (all Windows default formats supported) in addition to a snapshot from recorded video or an Avigilon Appearance Search result. Up to 500 names can be added to each appearance watch list which means even on the biggest of sites security can be managed more pro-actively. The software will support up to 5000 profiles as a combined total across all watch lists.
Face recognition matching is now done at the full resolution for H5A cameras for improved performance. Separate licenses are required for Face Recognition on a per-camera basis. Cameras will seek to identify potential matches based on the watch list. If a potential match is found, the user is alerted within the ACC software, and security personnel can then determine whether further investigation or action is necessary.
Able to detect people or vehicles moving quickly
H5A cameras can also analyse a camera's scene and detect when objects (people or vehicles) are moving at an unusual speed or are present in an unusual location in the scene and send an event to ACC for presentation to an operator in its Focus of Attention interface, or for review on the recorded timeline (requires the H5A firmware upgrade included with this release).
The Focus of Attention interface redefines the experience for monitoring live video. It helps increase operator effectiveness by providing an overview of events occurring across all cameras in the site, Operators can quickly triage the most important events at a given time by reviewing the associated live and recorded video to determine if a response is required.
AI: Cameras can be taught and can learn from their mistakes
Another advantage of the H5A cameras is that they are capable of being taught so that errors can be corrected. For example, you may have been getting notifications of events but there is nothing in the footage. If you have an event like that- for example a vehicle has been identified but in fact there is no vehicle you can go into the image within the ACC7 system and indicate that this is a false image. If you rectify these events often enough then the cameras will learn what is a correct and you will have fewer incorrect notifications.
Advanced Analytics: Transforming your CCTV system
Analytics will transform your experience of operating a CCTV system and the benefits of a faster more intuitive system will soon become obvious if you are responsible for CCTV in areas such as shopping centres, sports stadiums or entertainment venue. At these places large crowds can gather and spotting criminality or dangerous behaviour could be difficult if you relied only on security guards.
If you have a business, school or other premises based in Bristol or anywhere in south-west England that would benefit from advanced analytics and you would like to know more about this or the Avigilon CCTV solution please contact us. We will be pleased to visit your site to find out more about how we can meet your needs.