Security Group is delighted to have met the IASME Governance Standard that includes the Cyber Essentials Certification for the first time. This will give customers in Bristol, south-west England and South Wales confidence that they are selecting a company that takes data protection and cyber security seriously.
We have achieved our IASME Standard and Cyber Essentials Certification, which must now be assessed annually,  along with our parent company, Ecl-ips, which has now been IASME-certified for the past three years.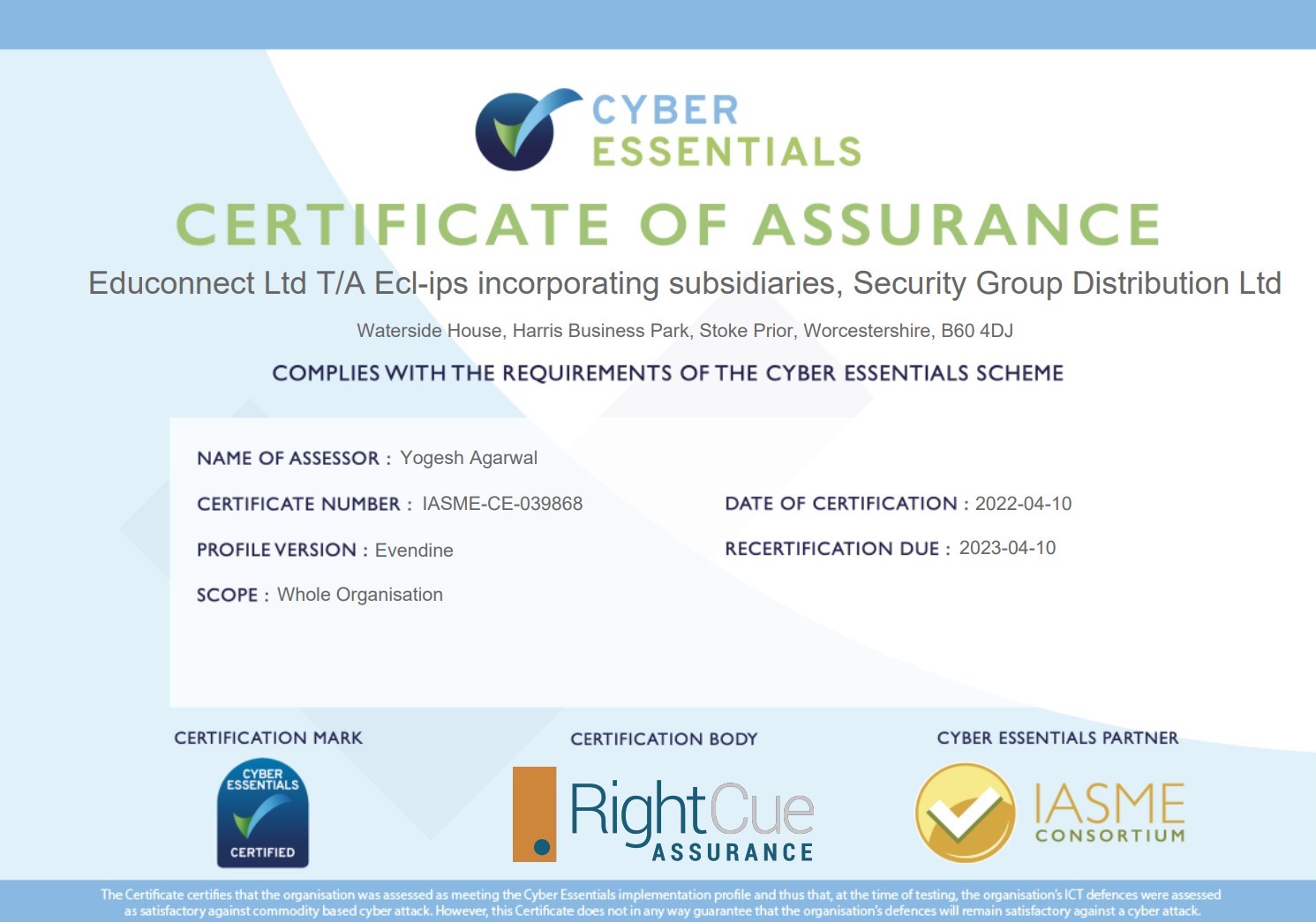 This demonstrates how we have improved our IT systems, data protection, and cyber security since we were bought by Ecl-ips in August 2020. Thank you to Stephen Gilbert, our Chief Engineer, who carried out the work to help us achieve the certification.
Gaining the IASME Governance Standard is part of our commitment to be a company that has well-trained staff and to be a company that you can trust. This is also demonstrated through our SSAIB-certification and our commitment to working with partners proving high quality products like Avigilon, HKC Security and Orisec.
The IASME Governance standard was developed over several years during a government-funded project to create a cyber security standard which would be an affordable and achievable alternative to the international standard, ISO27001. The associated certification allows small companies to demonstrate their level of cyber security for a realistic cost and indicates that they are taking good steps to properly protect their customers information. The IASME Governance assessment includes the Cyber Essentials assessment and GDPR/data protection requirements.
Cyber Essentials is a government-backed scheme which focuses on five important technical controls which are designed to guard against the most common internet based cyber security threats. It allows organisations of all sizes to demonstrate their commitment to cyber security. From April 1st 2020 IASME became the National Cyber Security Centre's Cyber Essentials Partner, responsible for the delivery of the scheme.
Not only does it demonstrate to you that we are taking cyber security seriously as part of our business operations it also gives us the opportunity to bid for government contracts which increasingly ask for this certification as part of their tender process.
We are also now listed in the directory of companies awarded Cyber Essentials which is an ideal source of information for those that want the peace of mind of selecting a company that takes cyber-security seriously.
If you are based in Bristol, south-west England or South Wales and want to choose a security systems provider that takes data protection and cyber security seriously then please contact us.